When I think of Father's Day, I automatically think steak and barbecue!  The men in my family have never liked fancy restaurants much and they have always loved a good steak, so BBQ always seems to work.  Plus, it is casual and fun and when outdoors, everyone can just kick back and enjoy.  No fussing over what to wear or where to go, just head to the grill and you know there will be a party!
My dad isn't with me anymore (miss him everyday) but I celebrate his life all the time and a little extra on Father's Day.  Making a meal I know he would love just makes me feel closer to him.  This year's menu includes a lot of "guy food" with lots of extras, tons of cold brews and a dessert I know my brother (another dad) will love.  My mom doesn't like steak much (How is that possible?) so I always make sure there is some seafood on the menu… shrimp is her favorite.  I try to round out the meal with options like a big salad, grilled veggies and a big bowl of fruit salad or sliced watermelon.   This way, I know everyone has something they'll enjoy.  BTW, I always encourage family and guests to bring sides or things they want to barbecue themselves.  Guys love to grill, so there is usually a little territorial fighting happening at the grill and everyone wants to cook something. So, I let them bring their own and have at it!
This year, for the first time, I'm making a Tomahawk Steak for the event.  I haven't entertained with it before, but it is definitely a show stopper and one I know the guys are going to love.  I've been wanting to whip out that Flintstone-sized piece of meat at a family party for years… LOL.  This is the year.  The steak can handle a ton of seasoning and liberally coating it is the first rule of thumb.  Making sure it is at room temperature before searing is a must so that the meat cooking evenly.  Getting a hard sear on all sides before putting it on indirect heat to finish cooking is the name of the game.  Basting this bad boy in a butter bath is a must (are you drooling yet?).
Check out the recipe, plan ahead and sit back and enjoy the admiration in all the dad's eyes! Priceless.
As mentioned, I'll also be including Grilled Scampi Style Shrimp that are really fast and easy on the grill. You can skewer them or use a sheet pan, casserole dish or one of the fancy seafood grilling plates I have. It doesn't matter since it all works. I'll often cook these off in batches and serve as appetizers while the steak is cooking… they are great to snack on while waiting for the main event.
I'm also serving my Crispy Garlic Potatoes made right in a cast iron skillet on the grill. Easy to prep and set up way before the event and they'll cook on the grill in about an hour. Throw some corn on the cob (with my garlic butter) and a skillet of broccoli spears piled with cheese on the grill for a couple of minutes before you are serving dinner for the perfect, well rounded meal.
This year I'm serving up a big, Italian salad with as many veggies as I can find and topping it with a lemon vinaigrette. That will be nice and light and will cut through the richness of the steak and also keep it lighter for those looking for a healthier meal (Shrimp, salad, grilled veggies… everyone can eat at my barbecues.) Served with a big basket of bakery rolls and assorted crackers and breadsticks gives everyone something to nibble on. You don't have to make absolutely everything. Filling in the gaps with some great store bought items is my secret weapon to getting it all done.
When it comes to drinks, this is the boys' day and beer reigns supreme.  I put out a big bucket of ice loaded with different types of beers (I know my guy's favorites!).  I also make sure there is plenty of bottled water and soda for those not drinking beer and I always encourage my guests to bring whatever they personally want to drink.  BYOB is big in my family.  I'm prepping, cooking and serving… I can't run a full bar at the same time! BUT I will whip up a pitcher of Arnold Palmers and have a bottle of vodka chilled. This way, I have a great mocktail and/or cocktail ready to go. This makes it totally self-serve and frees me up to tend to everything else. If you haven't had an Arnold Palmer before, it is the perfect summer drink. Iced tea and lemonade are mixed and garnished with lemon wheels and mint… how perfect is that?
For dessert this year, I have a fun, tropical dish made with my brother in mind.  Pineapple spears soaked in Malibu rum are served with coconut sorbet and topped with coconut and macadamia nuts for a delicious finish.  Worried about serving frozen sorbet at a BBQ? Don't be. The not-so secret tip is to use dry ice. People don't expect ice cold ice cream or sorbet at outdoor events, so when you whip it out after a meal, they just go nuts. You can get dry ice at most supermarkets and I just pack a small cooler with it for my frozen treats. Individual-serve ice cream treats and frozen candy bars, anyone? There will also be a big bowl of fresh fruit and a platter of store-bought cookies.  
Did I mention snacks?  I delegate that to my nieces, who bring everything from chips and dip, to crudite and hummus, nuts and anything else they may be craving.
And there you have it.  This year's Father's Day BBQ menu.  Grab all the recipes below and get started on your own menu planning.  I hope you'll make one or more of my suggestions.  If you make the Tomahawk Steak, I need to see photos and the expressions on your guests' faces, please!  Post to instagram and tag me @mycuratedtastes or email me and I'll post them. Happy Father's Day!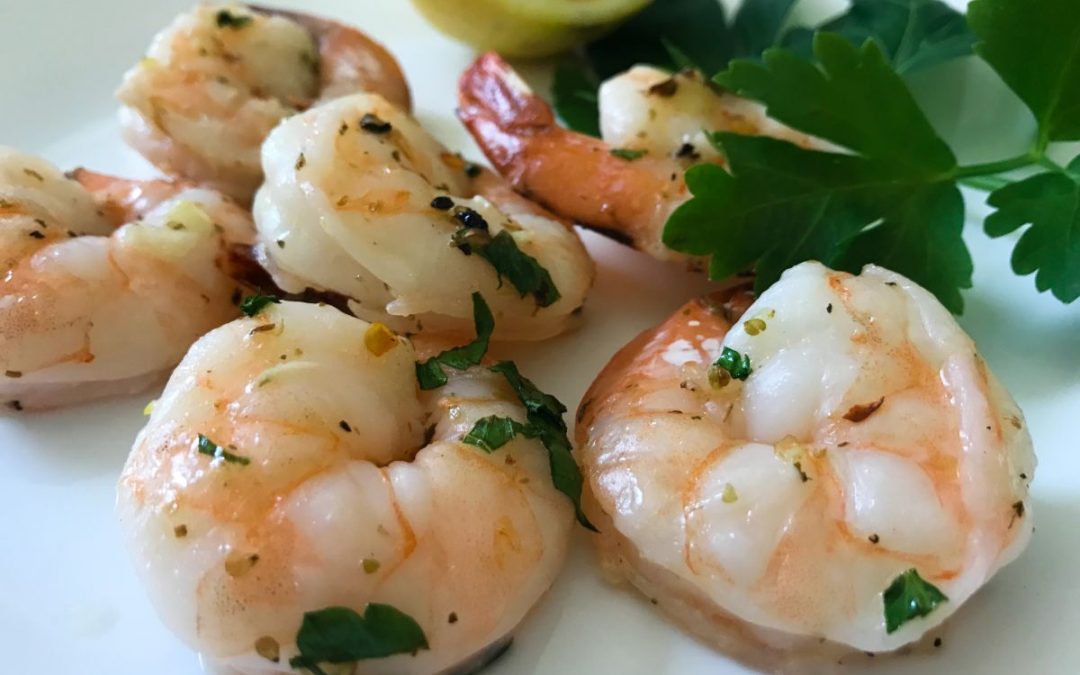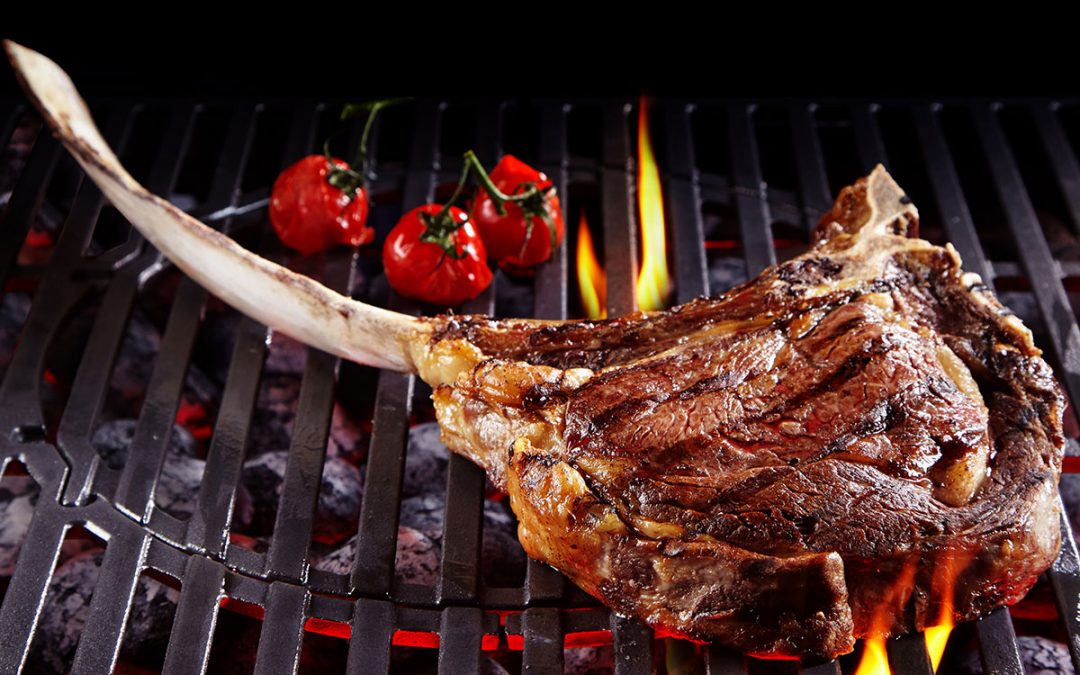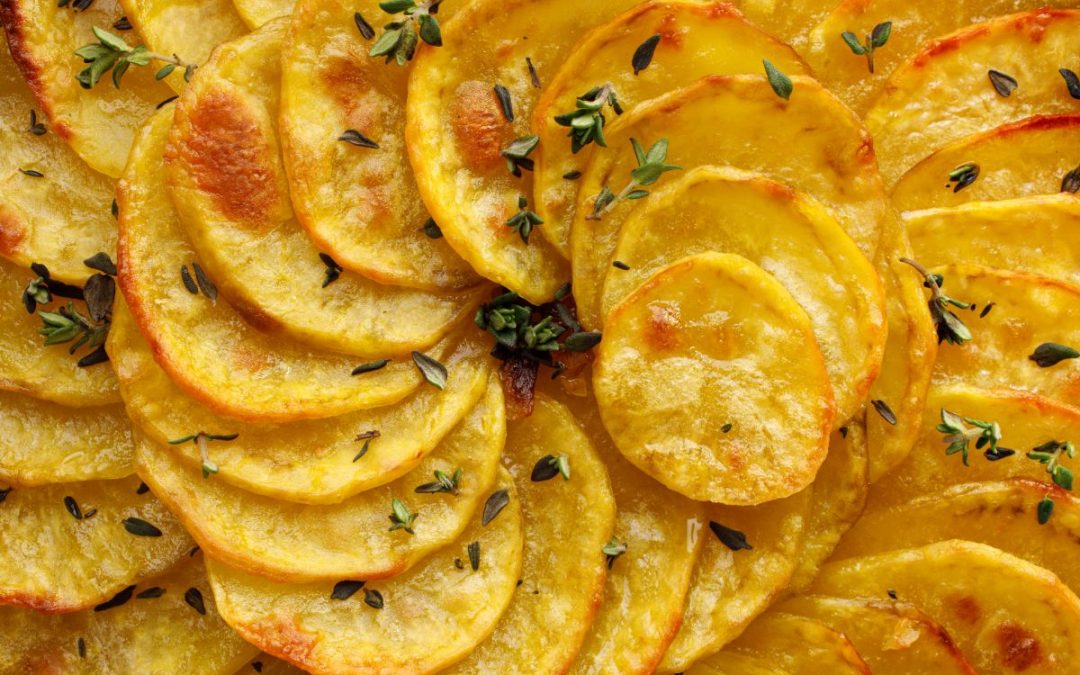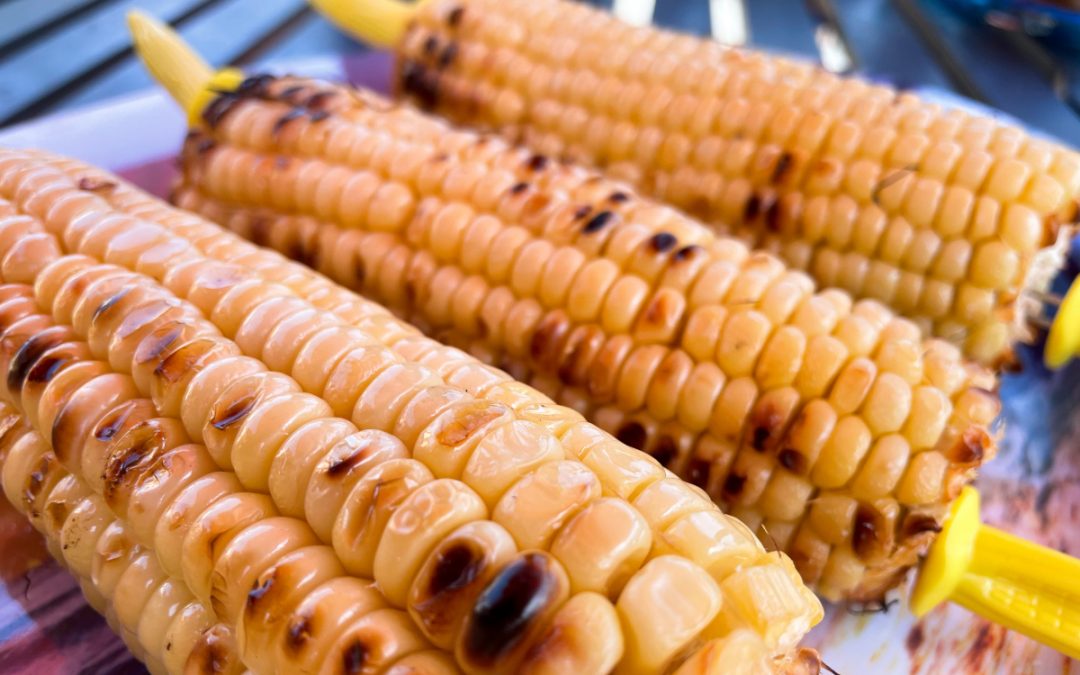 Corn on the cob with Garlic Butter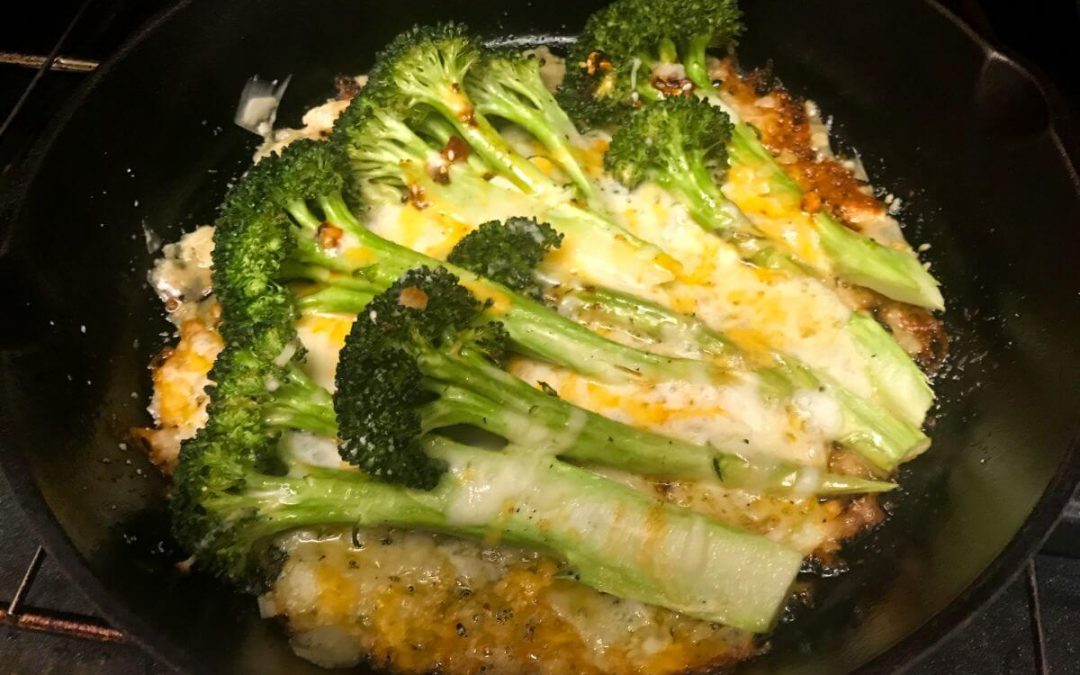 Crispy Cheesy Roasted Broccoli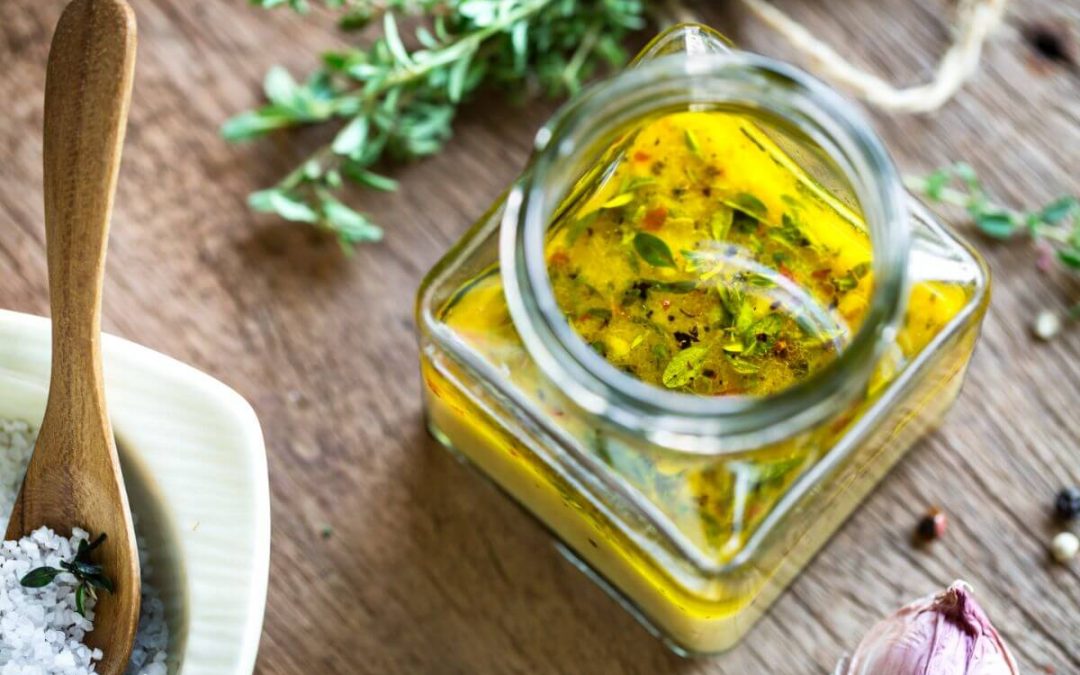 Italian salad with lemon and thyme vinaigrette
Basket of rolls, crackers and breadsticks
Cooler of assorted beers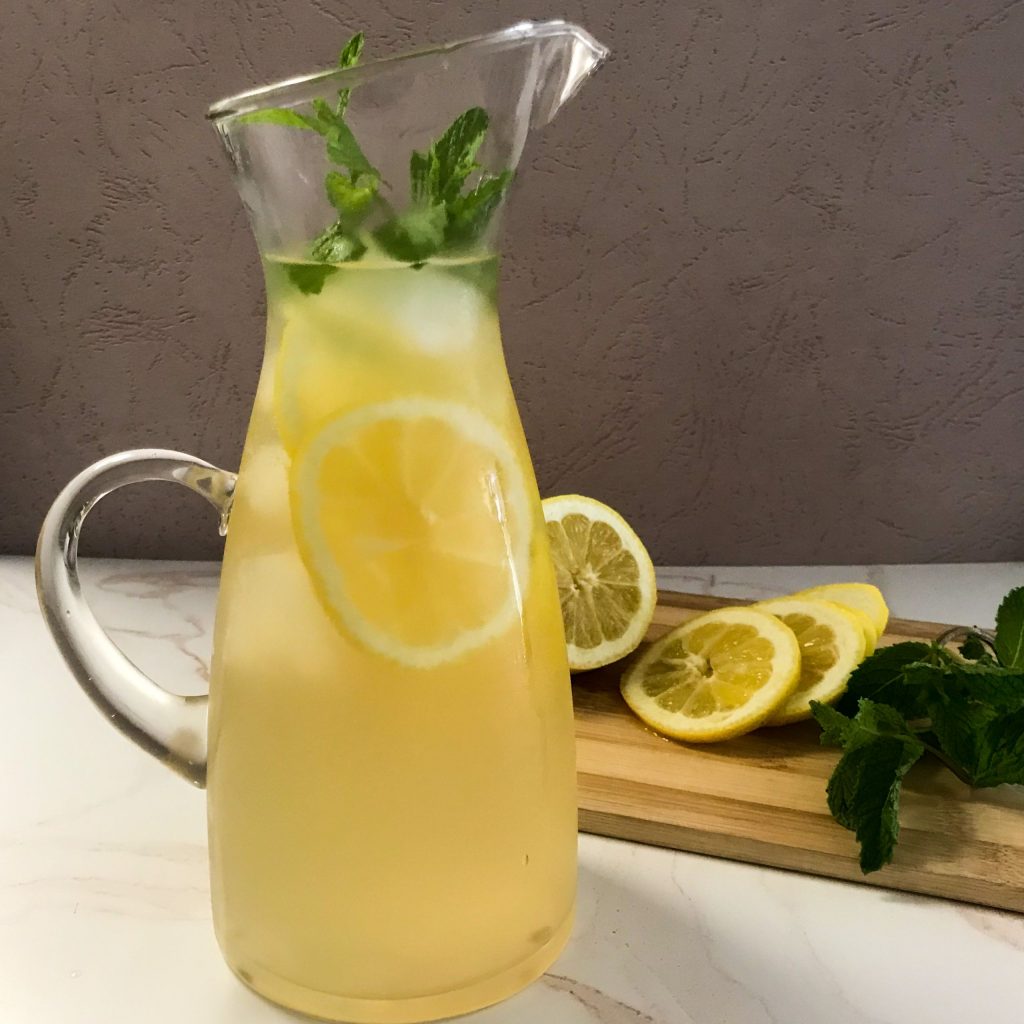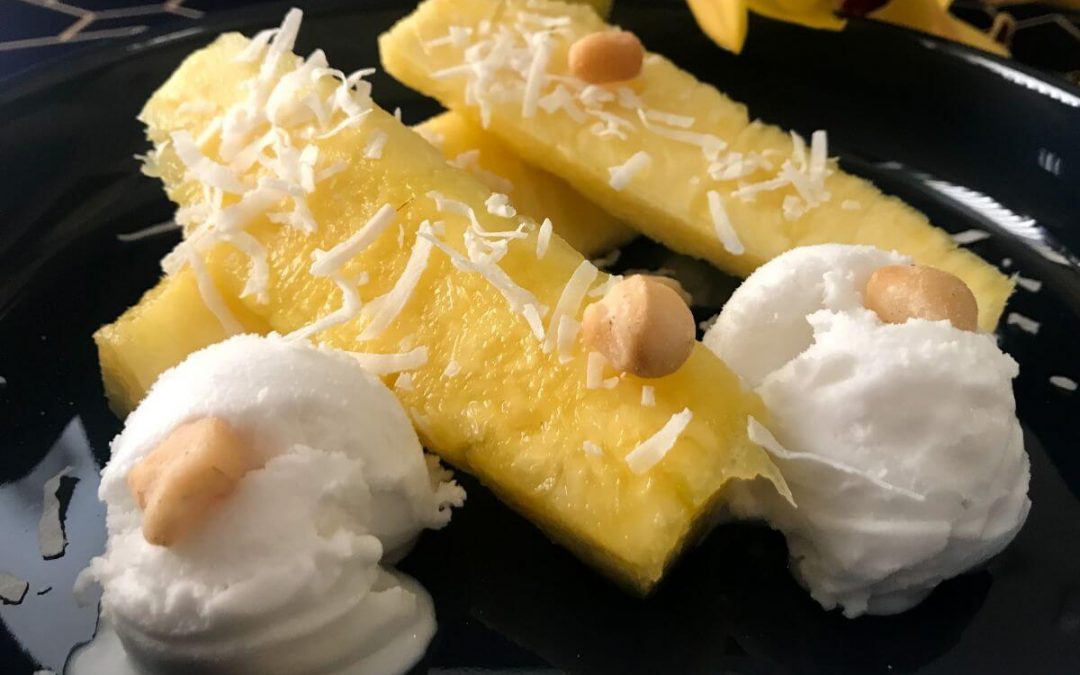 Malibu Soaked pineapple with Coconut Sorbet and Macadamia Nuts
Bowl of fresh fruit
Platter of cookies