A Weekend Getaway in Coronado, CA: Where to sleep & eat
There's a little slice of heaven in San Diego County known as Coronado Beach and it's one of my favorite getaway spots. I first discovered Coronado when a girlfriend in New York told me about this great resort called the Loews Coronado.   I lived in Minneapolis at the time, was freezing and thought nothing sounded better than lounging by a pool in a brand new resort, indulging in some spa treatments and exploring a cute little beach town. That was the beginning of my love affair with the city. I've spent holidays, family vacations and quiet "me time" weekends there whenever I could.  It is a beautiful property in a beautiful city.
LOEWS CORONADO ON THE BAY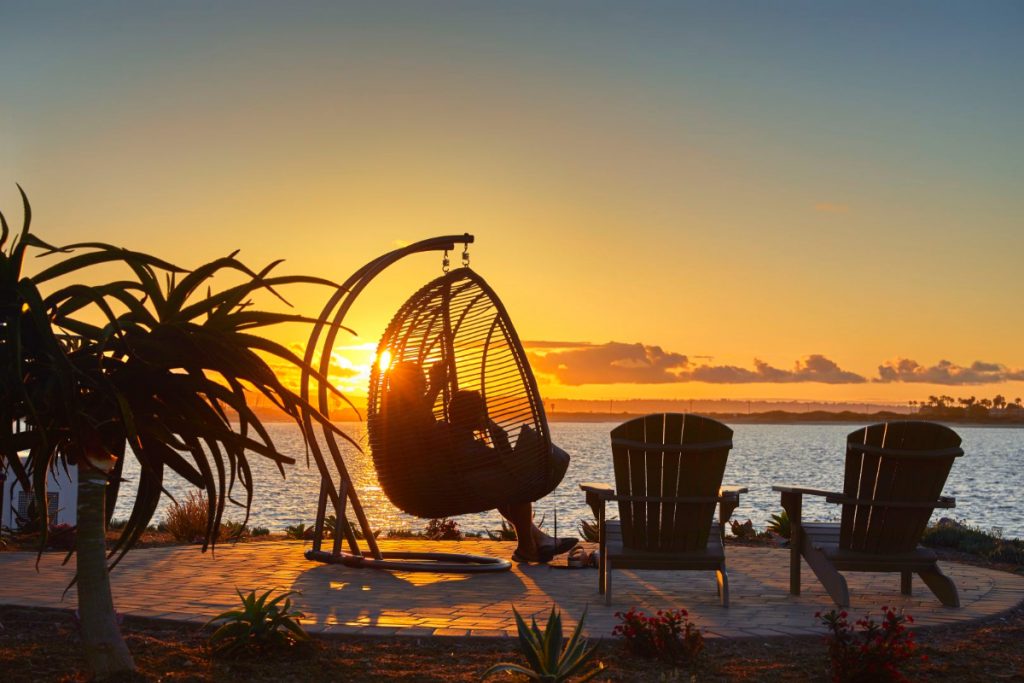 I like to get down there at least twice a year for a little "me time". Coronado is less than two hours from my current home and a straight shot down the 5 Freeway making it a convenient weekend getaway for me.  However,  I have flown into San Diego from other States to enjoy this special place.  It is well worth the drive or flight to experience all it has to offer.   I have stayed at multiple hotels and boutique inns on Coronado. I've tried all the spas in town and have dined at some of the best restaurants. There is so much packed into this little piece of real estate and so much to do.  However, for a quick weekend getaway, I'll just be highlighting some of my favorite places to sleep and eat. When I'm not doing either of those things, I'm at the beach!  There are lots of great choices on where to stay on Coronado from the infamous, and very expensive, Del Hotel to the smaller boutique inns like my first recommendation, Hotel Marisol Coronado.
HOTEL MARISOL CORONADO GUEST ROOM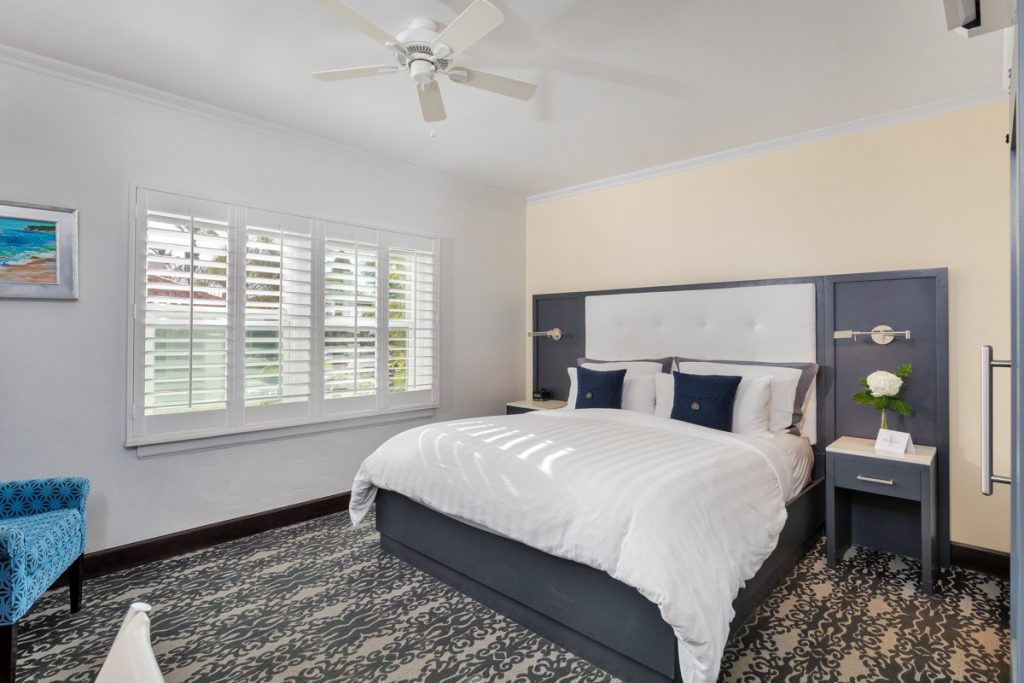 This little inn is tucked away on a side street in downtown Coronado. It is a charming boutique style hotel that serves wine and cheese on Friday evenings and a lovely continental breakfast each morning. The rooms are small but beautifully decorated and the charm of the old, historic elevator that takes you to your room is a throw back to the past and a working testimony of the history of the building. You can use their bicycles to ride to the beach or fly around town but since you are within walking distance to both, it's your choice. You can walk to several great restaurants, bars and shops or sit in the lobby or courtyard and read and relax. The only downside to this property is that there is no designated parking. You do have to park on the street which I'm sure can be a challenge at times. However, I've never had a problem and I've been there on summer weekends. TIP: this inn is right around the corner from the house where L. Frank Baum wrote the Wizard of Oz.   If you are a fan of the book or movie, you should definitely walk by and snap a photo.  I'm told the owners are used to it.
Another favorite inn of mine is the Glorietta Bay Inn. This property has the perfect location for me! It is directly across from the Hotel Del and within walking distance to one of my favorite restaurants on Coronado (more about that later). This property has both traditional hotel style rooms and what they call The Mansion Rooms. These rooms are located in the original historic structure and are filled with old world charm. I've stayed in both style rooms. I had traveled with my mother who needed an ADA friendly room so we stayed in the regular hotel room with parking right outside our door.  The room was spacious with a little table and chairs outside where we could enjoy our complimentary buffet breakfast.  While that is served in the main music room, you can take the breakfast back to your room if you choose.  On a couple of weekend retreats for me, I've stayed in the mansion rooms and they are just wonderful (but they do require that you are able to handle a long flight of stairs). The staff here is amazing. Every time I've visited, they were friendly and helpful and yes, it does make a difference. Often, there is a bottle of wine waiting for you in your room when you check in – a really nice touch. There is a small pool on the property but that really isn't the draw at this property.  It really is the location.  You can walk right across the street and enjoy the beach in front of the Hotel Del and that is exactly what everyone does. Personally, I'd rather stay here which is much more affordable and then use the money I saved on lodging and walk across the street to experience the beach, dining and shopping at the Del.
THE HOTEL DEL CORONADO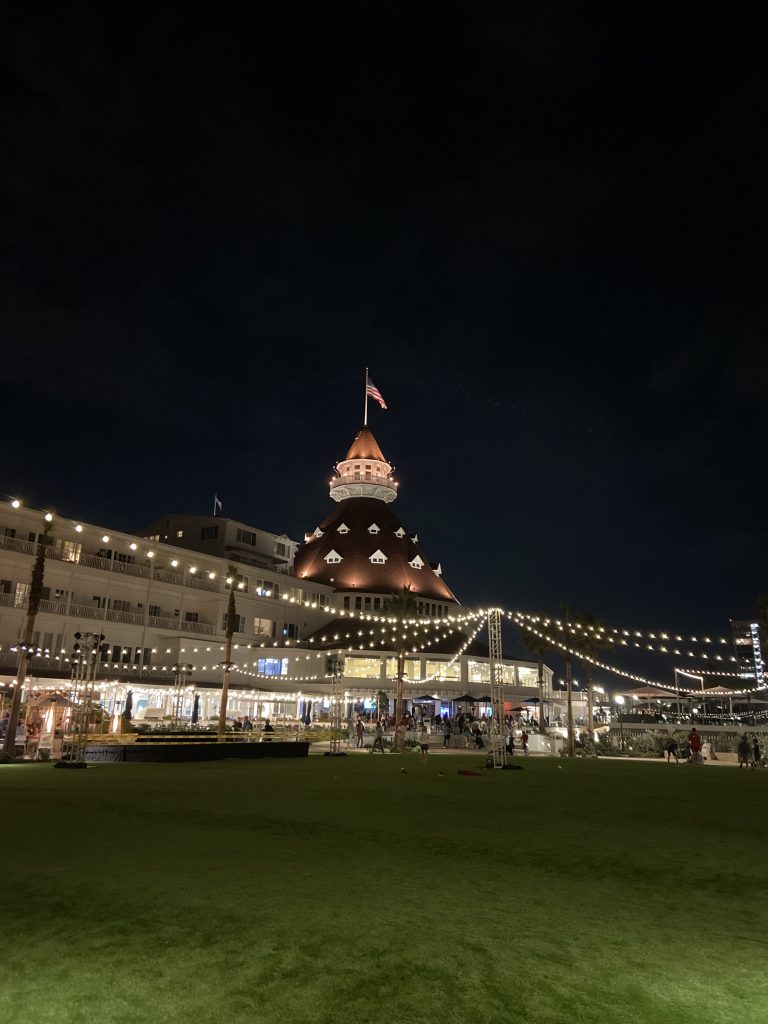 GLORIETTA BAY INN – MANSION ROOM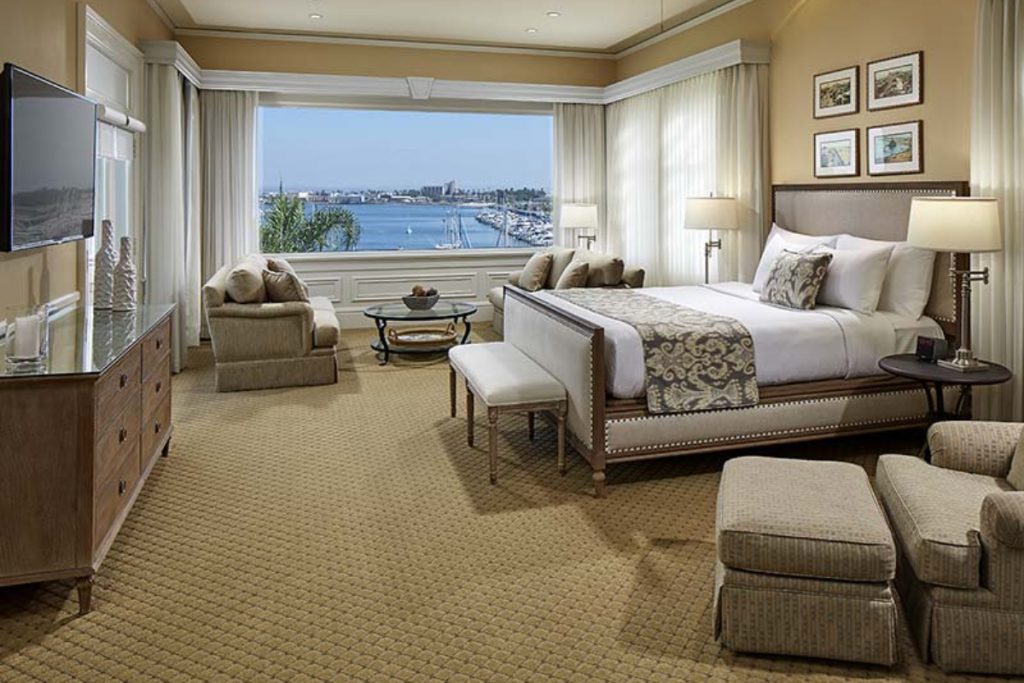 GLORIETTA BAY INN – BREAKFAST BUFFET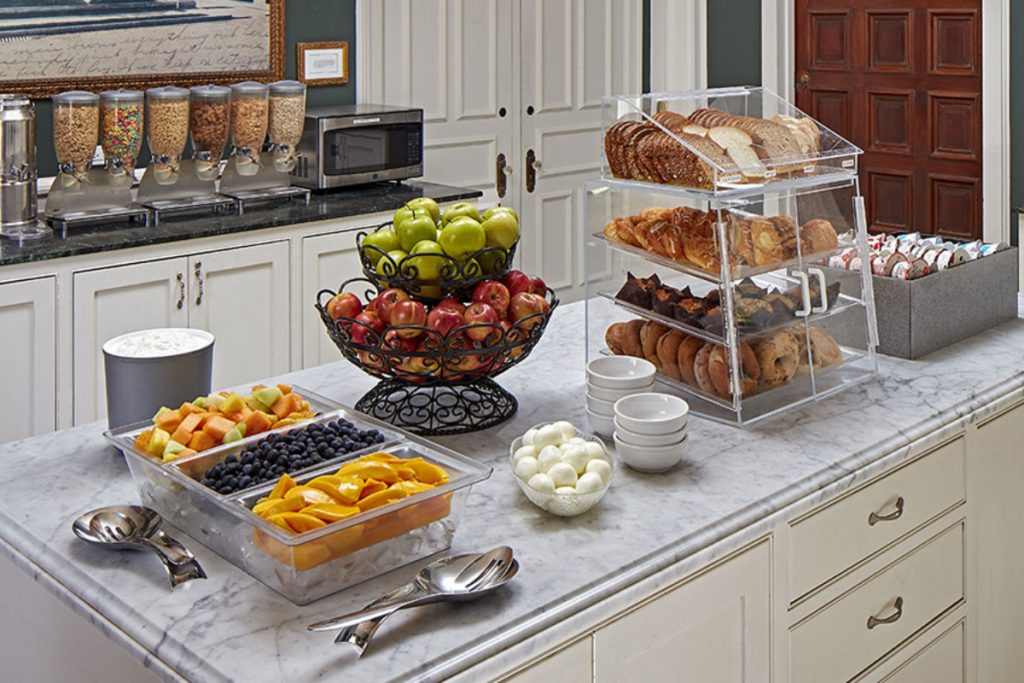 Now that you have a couple of choices on where to stay, here are my favorite places to eat. Since both inns offer a breakfast that is light and easy, I usually just plan on where to have my lunch and dinner. Some of my favorite spots to grab lunch, an appetizer or a cocktail include:
I really like the casual options at the Hotel Del. Since I often spend the day at the beach right in front of the hotel, eating at one of their casual eateries is convenient and really delicious. Pizza, tacos and ice cream are all right there. I love a good taco so usually my first choice is The Beach & Taco Shack   It is super casual, has a funky Tiki vibe and you can grab a drink while you are there. Fish tacos are definitely my favorite!

If I'm out shopping or down at the Ferry Landing (There is some fun "touristy" shopping there), I really like to stop in at the Coronado Brewing Company. Pizza, burgers, and typical bar food make up the menu but they also serve up some great local brews. The combination can be appealing after eating so much seafood (my fav!). What's not to like about a burger, fries and a cold one? I really love  The Mermain BBQ burger but I must say, I'm hooked on their jumbo pretzels (talk about getting your daily carb quota!).
There is another spot I like a lot and that is the Cays Lounge at the Loews Hotel. This is the hotel that started it all for me years ago and the place is really beautiful, far off the beaten path and I always stop in to see what new shops might be in the lobby. There have been surprisingly wonderful finds over the years. Like most large resorts, they have lots of options for dining, but grabbing an appetizer and a glass of wine at Cays has been a favorite of mine. You can dine outside or sit indoors at their bar and catch a game on the big screen TVs.  Since I also frequent their spa, this is a great spot to eat after my Spa treatments. The menu is very limited (You are there for the atmosphere) but I always get the Clam Chowder and flatbread pizza….both are really good. A side note: I also enjoy going to the Silver Strand Beach, which is right across the road from this resort. So, a day at the beach often leads me here for a late afternoon snack and cocktail before heading back to my hotel.  
 SILVER STRAND BEACH
Ah, dinner plans!  I love going out to dinner.  I read menus like I'm studying for my next recipe creation.  The more creative the chef, the more fun I have.  At the end of the day, I'm looking for fabulous, fresh food and a wonderful atmosphere.  If there is a great view and good service, I'm in heaven!  So, here goes.  My top three favorite restaurants and dining spots for dinner are:
The Blue Water Grill (within walking distance from The Glorietta Bay Inn). This restaurant sits right on the water and serves some of the best seafood in town. However, take note of the bread. OMG, I could go there for that alone. A waiter told me they have it made by a bakery in Hawthorne, CA and then brought to their restaurant daily. (That's three hours away! That's how good that bread is!) A crusty, warm loaf smeared with butter and served with a glass of wine is the start of one fabulous meal.   Can you taste it? Don't miss the oysters on the half shell or the steamed clams in a butter and garlic broth.  This is a seafood restaurant so I always ask what's fresh and new and I've never been disappointed.  You can stare out on the bay and take in the sites of seagulls, boats and lapping water.  Just breathe, relax and enjoy.       BLUE WATER GRILL
Peohe's is right on the water with spectacular views of downtown San Diego. This is an upscale, seafood restaurant with elegance to spare. They have a wonderful bar area, make really unique cocktails and provide impecable service. This is my high-end restaurant of choice when I'm in Coronado. Here is where I'll always ask about the daily special and take recommendations from the waiter.    PEOHE'S RESTAURANT
Hotel Del Coronado (The Del) should be on everyone's list as a "must see". It is the iconic hotel seen in the movie Some Like it Hot with Marilyn Monroe and its unique architecture makes it a stand out on the Island. While it can be very expensive to stay, eat and play here for your entire weekend, you should plan on visiting the beach, spa or one of their many restaurants. I have eaten at all of them at one time or another but they have a wonderful bar that serves small plates and pizzas that is especially fun.While this isn't a traditional restaurant or even a place you might think of for dinner, it does provide a great relaxed vibe that I like.   Babcock & Storys usually has live music on the weekends so stopping in for a couple of appetizers, a great glass of wine and some music can really be a fun night and a great way to wrap up your weekend in Coronado.      BABCOCK & STORYS BAR AT THE DEL
And there you have it, my favorite places to stay and eat while in Coronado for the weekend. All the places I've recommended are really wonderful and I frequent them all on a regular basis. When I can, I go for a full week to enjoy every nook and cranny of that city. Look for future posts on things to do while staying in Coronado. For now, pack a bag, book a room and enjoy the beach and restaurants. That's my idea of the perfect weekend.