Who doesn't like ice cream? Whether it is plain vanilla or some exotic flavor, everyone likes it and has a favorite. Serving it for dessert is always a good idea. But setting up an Ice Cream Sundae Bar takes ice cream to a whole new level. Setting up a station at a party where kids and adults alike can "play with their food" and create their own, personal masterpiece is a fun and interactive idea for any party. And I've got lots of tips for getting this done. Once everything is set up, your guests do all the work. They select the ice cream flavors they want, they choose the size and amount of their treat, and probably the most fun part is that they decide on syrups, whipped cream and toppings. Oh, the toppings! Can there be too many?
The key to a successful ice cream station is to start with a variety of base ice creams. There are so many to choose from, and as a good host, it is always wise to check in advance for any allergies (dairy, nut, etc.) and for any specific needs of your guests. (sugar free, dairy free, soy only, etc.). It is not hard at all to find specialty ice creams right at the grocery store, so ask in advance and have something for everyone on hand. I like to serve basic flavors and let all the toppings do the heavy lifting. Vanilla, chocolate, strawberry, and pistachio are all good starts.
I like to have a couple of sorbets on hand too. A nice tropical coconut sorbet goes well with lots of fruits and nuts, and a fresh, light berry sorbet or cantaloupe sorbet will offer lots of choices for your guests.
Next up are syrups. Having a nice assortment will keep everyone happy. I like to put out hot fudge, caramel and berry syrup. I also love to include Hershey's Magic Shell (chocolate that creates a hard shell as soon as it hits the cold ice cream). You can make your own syrups or purchase great quality syrups online or at the grocery store. Having one or two sugar-free options never made anyone mad and will be appreciated by those trying to cut back on some of their sugar intake. Smuckers makes a really good sugar free caramel sauce, as well as, a chocolate sauce.
I always like to put out whipped cream. Cans of the famous aerosol whipped cream are perfectly fine (and they come in light versions too), but you could add a specialty whipped cream like my pistachio whipped cream (just heavy cream, pistachio powder and a little confectioner's sugar) or my mascarpone whipped cream (heavy cream, mascarpone, vanilla and sugar) to make it a little more special. All the options work, and remember, this isn't the place to skimp. More is more when it comes to whipped cream and other toppings!
Finally, we need to talk about topping-you know, the "garnishes." This list could be endless, but I'm going to provide you with a nice, well-varried list to get you started. Put out trays and bowls of toppings, each with a serving spoon, so everyone can help themselves.
Bowls of berries, chopped kiwis, chopped pineapple
Bowls of assorted candies (M & Ms, chopped candy bars like Andes Mints, Snickers, Heath bars, and kit-kats)
Bowls of chopped nuts like: pecans, peanuts, almonds, pistachios, and candied walnuts
Bowls of sunflower, hemp and chia seeds
Maraschino cherries
Cookies, pretzels
Bowls of sprinkles and Dragees
Now that you have all the ingredients for a fabulous ice cream sundae, you need to be sure you have all the dishes, serving pieces, and utensils to make this easy for your guests. Here is a check list:
Ice cream sundae dishes (glass, plastic, or disposable). You can buy some old-fashioned classic dishes right on Amazon, or some cute smaller dishes. You can also buy small disposal cups and spoons right on Amazon or at a local party store.
 Another favorite is to put out waffle cups (your great tasting waffle cones in a bowl shape). I can find them at my local grocery store.
Depending on your serving vessel, use long or short ice cream spoons.
Plenty of colorful napkins (Ice cream is a messy business!)
Ice cream scoopers (one for each ice cream or sorbet choice offered)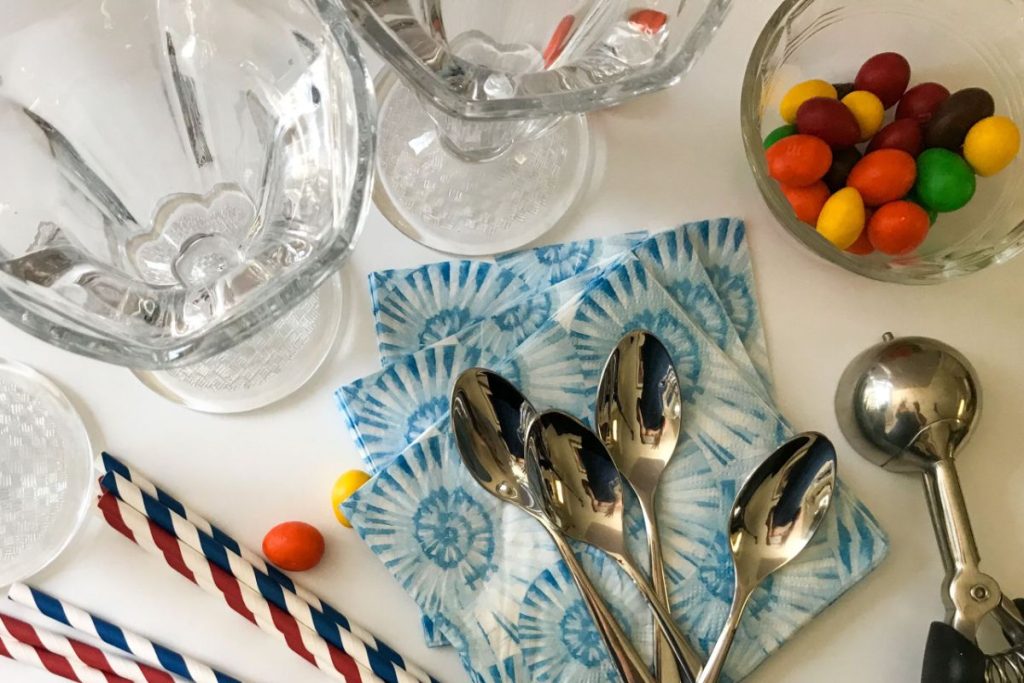 The tricky part is keeping the ice cream cold and not letting it melt all over the place. Dry ice can get this job done, but you have to be careful that your guests don't touch the ice (it can burn skin), so you want to keep it covered and the tubs of ice cream tucked into the covered ice. You can cover a bucket of ice with plastic and set the tubs of ice cream on top. You can also use regular ice put out in big rubber tubs.
However, I've seen ice cream stations set up where cartons of ice cream are just put out on a tray with the scoopers. The theory is that "it doesn't last long enough to worry about"… LOL. Another option, popular when there are very large groups or a ton of kids, is to have someone scoop the ice cream into the dishes for your guests and just let them worry about the toppings. If you have freezer space, setting up ice cream sundae dishes with pre-scooped ice cream in them so all your guests have to do is "top" them is another, easier way to go. Although, you do lose all the fun of choosing your base ice cream. You decide.
You have options, so know your "crowd" and make a decision based on that.
I also like to put out a bowl of handy-wipes. People will dribble, spill, and have small messes to clean up. The handy-wipes always come in handy. (hence, the name).
If you want to make your event a little bit special, you can always make your own ice cream and sorbets. I've got lots of recipes for you to try, like my No Churn Vanilla Ice Cream, the Best Pistachio Ice Cream, My Creamy Cantelope Sorbet, or My Blender Berry Sorbet.
How about your own flavored whip cream? Or make a simple berry syrup or fudge sauce.  You can always add your own special touches.
Remember, this is meant to free up your time when entertaining a group of people. It is also a great way to get people to mingle and get creative. Have a "Best Sundae" contest. Take photos and vote on the best one. Post to social media and give a shout out to your guest. Gift them with their own ice cream dish as well as a gift certificate to a nearby ice cream or yogurt shop. Options for fun are only limited by your imagination. If you have your own Sundae Party, be sure to share your photos. I love to see you in action!