Bloody Mary bars can be found everywhere!  I've seen them at Sunday Brunch at local restaurants, at day weddings (although, I don't know about you, but that sounds risky to me if you are the bride all dressed in white…lol) and at Super Bowl parties.  Bloody Mary's have long been considered the perfect brunch beverage and the perfect hang over cure…something about the "hair of the dog" but in recent years, they have been the base for some wild concoctions. 
I remember when ALL Bloody Mary's came with a celery stick, one green olive and a lemon wedge. Then there was this mind boggling Bloody mMary that showed up at a brunch I had out in Montauk, NY.  There was this colossal cooked shrimp hooked on the rim of my glass and I thought that it was brilliant.  I mean, Bloody Mary's do taste a lot like cocktail sauce and adding a shrimp to the drink made perfect sense to me.  But this shrimp was HUGE, and perfectly cooked and delicious!  It was like a meal in a glass…little did I know that the shrimp was just the beginning of a trend.  Bloody Mary garnishes would take over the bar scene as a new, super cool "thing".  Although, can you really call crab claws, mini hamburgers and a stack of onion rings "garnishes"?  Yes, I've seen all of that sticking out of Bloody Marys.  How fun is that?
Setting up a Bloody Mary Bar at home can be as simple or as grand as you choose.  What you decide to offer your guest as "garnishes" is only limited by your imagination.  To get you started, I'm providing you with a checklist of the basics you should have on hand and then a list of things you may want to consider to serve as "garnish" options.  You display everything attractively on a table or bar with jars, plates, baskets and bowls filled with garnish options.  Some are basics and standard Bloody Mary garnishes and others are fun, over the top items you can skewer and serve in the drinks.
Be sure you have all the basics set up on the bar:
.  Glasses, cups or mason jars
.  Buckets of ice
.  Cocktail napkins
.  Straws
.  Cocktail stirrers
.  Plates set up with salt and/or flavored salts to rim their glasses…have lemon/lime wedges handy so they can wet the rims first.  Better yet, have the rims already salted on some of the glasses so your guests can just grab and move down the garnish line.
.  Skewers for people to skewer their own mix (you can also pre-skewer an assortment of veggies and/or meat and cheese so they can just take one and garnish.)
Be sure you have all your juices in pitchers or jugs and make sure they are properly labeled.  You can hang little signs on the pitchers or have little chalk boards in front of each pitcher of juice identifying the type of juice. 
If it is a large party, be prepared with backups in the fridge like extra juice, cut up lemons/limes, etc.  If you are serving warm garnishes like mini burgers or corndogs, I like to announce when they'll be coming out of the oven so people can wait and garnish with the warm food.  I make sure all are easy to prepare and easy to serve and handle.
So, if you are ready to set up your first or 20th Bloody Mary bar, here are the basic ingredients for success!
BASIC LIQUIDS
.  Plain tomato juice
.  Clamato juice
.  V8 juice
.  Low sodium options
.  Pre-made Bloody Mary mix (NOT store bought. ) Make your own basic mix and have it available for those that don't want to create their own.  It will be mild on the heat and seasoned just enough so people can add to it.  (See below)
.  Quality Vodka (s)  Offering flavored vodka choices is a nice touch.  Consider lemon flavored, lime flavored and pepper flavored vodkas to add to your bar.
MIX INS
.  Worchester sauce
.  Tabasco
.   An assortment of other hot sauces
.  Prepared horseradish sauce
.  Celery salt
.  Fresh ground black pepper
.  Kosher salt
.  Garlic powder
TRADITIONAL GARNISHES
.  Pimento stuffed green olives, jumbo size
.  Blue cheese stuffed green olives (these are a nice twist)
.  Lemon wedges
.  Lime wedges
.  Celery stalks
FUN GARNISHES
.  Brown sugar coated bacon stripes, baked until crisp
.  Slim Jims
.  Pickle spears
.  Fresh Cucumber spears
.  Skewers of chunks of cheese, folded salami slices, mozzarella balls, cherry peppers, pickled veggies, black olives, sausage sticks
.  Colossal cooked shrimp
.  Crab claws
OVER THE TOP GARNISHES
.  Mini hamburgers
.  Skewer of onion rings
.  Mini corndogs
.  Pigs in a blanket
.  Meatballs
Anything else you can think of and skewer can be on your bar.  If you think of new and creative garnishes, be sure to share.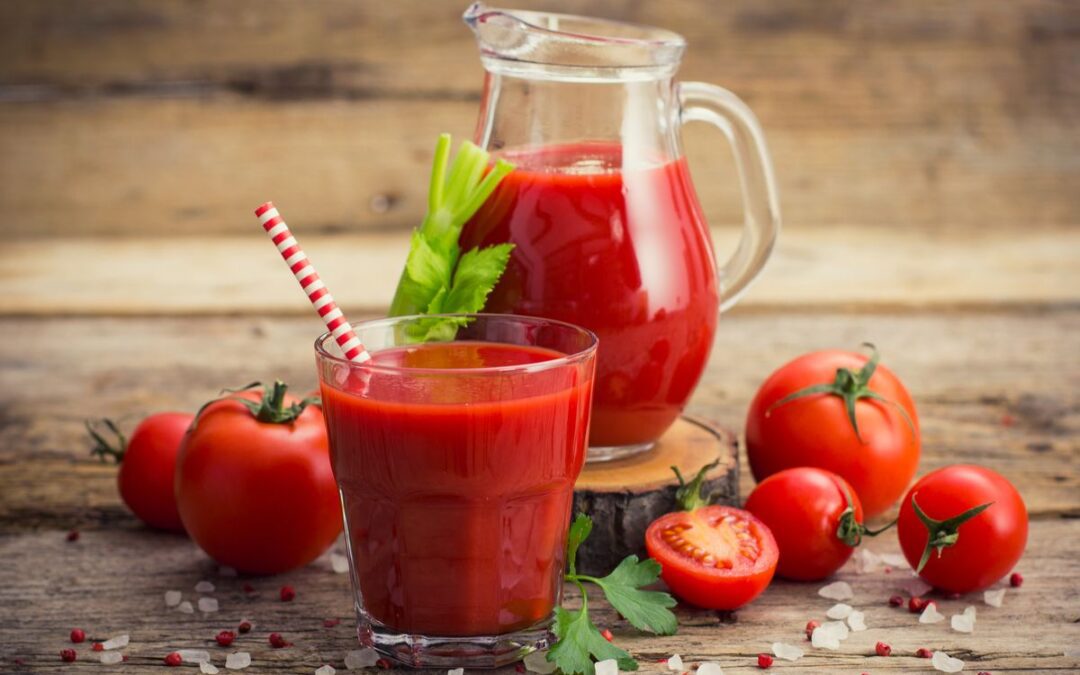 64 Oz. Quality tomato juice
2 Tbsp. prepared horseradish sauce
1 Tbsp. Worcheshire sauce
2-4 Dashes of tabasco sauce
1 Tbsp. Celery seeds
3 Lemons, juice of
Kosher Salt and Freshly ground black pepper to taste
1)  Mix everything in a large pitcher and chill until ready to serve.  Add to your selection of juices.
I know you don't think it is possible, but there will be a few "Bloody Mary Haters" out there so be sure you have other options and include non-alcoholic choices to.  Have a blast at your next party.  Be sure to check out my Brunch Page for recipe ideas to go with your Bloody Mary bar.
Better yet, sign up for my newsletters and get great food and drink recipes, menu ideas and travel recommendations sent right to your mailbox.