I started giving small bottles of homemade liqueurs as Christmas gift years ago. The idea of making them came from a boyfriend's father, Joe.  It was the holidays and I was meeting the family for the first time. When we got to his family's home, Joe welcomed me with a small shot glass of an Irish Cream liqueur.
He was holding this cute silver tray and on it were several little mismatched shot glasses and mini snifters filled with the liqueur.  Everyone had the welcome sip and eased into conversation. The moment was etched on my brain for so many reasons.
They were a big Italian family. All I could think was "Are they serving Irish Cream just for me?"
It was just a taste…you couldn't even call it a drink. He didn't offer options or seconds! He just presented the tray and everyone took a glass.
It was festive and so elegant. This was a modest man in a modest home. He wasn't putting on airs but rather sharing a little bit of holiday spirit in his own unique way. It really seemed special.
Conversation revealed that he had made the liqueur himself and that he did so every Christmas. (So much for the thought that he made it just for me…LOL.)
He wouldn't share the recipe but he did show me his "stash". The liqueur was in an old, glass jar with a screw top and he kept it in the refrigerator from Thanksgiving – Christmas and welcomed everyone to his house with this offering. HOW SWEET!
It would be years before I came across a recipe book at the library (You heard me, the library!). It was old and tattered and filled with very difficult and very easy ways of making liqueurs. I took the easy route after learning very quickly that I had no interest in opening a distillery. I've played with all different types of liqueurs and definitely have my favorites (and so do the recipients of the gifts). Mom loves an Irish Creme and Dad loved the Anisette.  Hazelnut flavored liqueur is also pretty popular among friends.
This isn't hard to do and it can be made long before gifting.  In fact, many should sit 1 -2 months before drinking.  (see my notes in the recipes).  I'll make batches of the spirits and keep them in jugs until I'm ready to bottle them as gifts. If you are making the spirits and bottling before the "drink date" just make a note on your gift tag letting your recipient know when the ideal time will be to crack open that bottle!  No reason not to make these this year.
You'll need a couple of main ingredients for the recipes below.   You'll also need some basic "tools" to get started.  Here's the list of items you'll need to have on hand to make your homemade liqueurs:
Jugs or large containers with lids,
Good Quality Vodka (80% proof is best)
Good Quality Brandy
Good Quality Irish Whiskey
Glycerin (optional but it gives that smooth finish you are use to in cordials)
Potassium sorbate (optional but stablizes the liquor and keeps the mix together)
Pure Flavored Extracts where noted
Syrups where noted
Decorative bottles, labels or tags, bows and or gift bags (all optional and up to you!)
When I first started making these, recipes would call for 100 or 80 proof vodka and that wasn't always easy to find.  So I quickly decided on using high quality vodka and brandy when making these cordials and not worry about the alcohol content.  It hasn't hurt the finished product at all.  The only thing I warn you about is using cheap, generic alcohol.  It tastes really harsh and completely destroys the taste.  So buy the good stuff so your guests and recipients of gift bottles really enjoy it.  Absolute, Smirnoff and Grey Goose are good brands for the vodka and a few good choices for brandy are Hennessey, Courvoisier and Woodford Reserve.  Jameson makes an excellent Irish whiskey.
Glycerin is one of the "magic" ingredients.  It has no taste.  Most people don't even know you can drink it.  So, what is the purpose of Glycerin in homemade liqueurs?  The finish.  That's right…the way the liquid finishes on your tongue.  That thick, smooth finish that you get from a cordial comes from the addition of Glycerin.  You can find it at health food stores and stores like Mother's Market and Sprouts.  You can also just buy it here.
You'll use many common ingredients when making these liqueurs but the unique flavors will come from Pure Extracts and syrups.  While there are lots of liqueurs that use fresh fruit, nuts and herbs that steep for months and months to get a great flavor, those I'm sharing here are made with the use of high quality extracts.  That's what makes them easy to make.  You can find great extracts in high end supermarkets and online outlets.  I've even found a great supplier of extracts at a local Italian food market.  I'll give you links to resources in each recipe.
If you are serving them to your guests like Joe did, a mason jar will hold your liquors just fine in the fridge.  If you are giving them as gifts, getting some beautiful bottles and adding a label, tag and or bow will make the gift that much more personal.  You can get a variety of bottles on line, in thrift shops or recyle old wine bottles (just use new corks).  I found the ones I'm showing below at Amazon.  You can purchase the same ones here:  Decorative Bottles
So, let's get to the recipes.  Below are three of my favorites.  Try one or all of them; then bottle them up and give them this holiday season.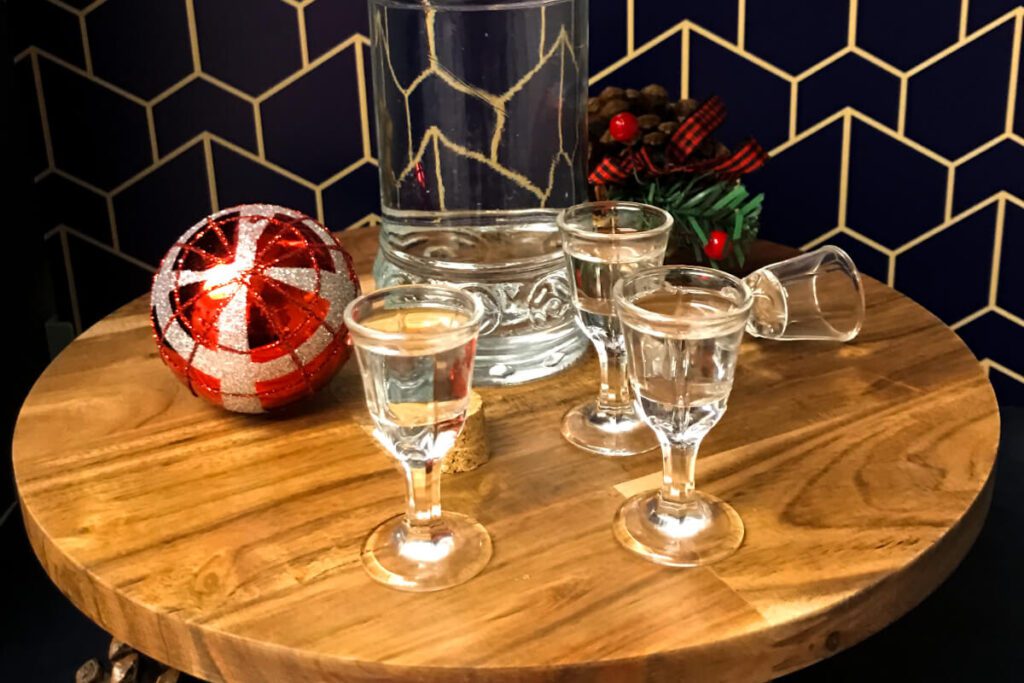 My father loved this very particular brand of Anisette (Marie Brizard).  Twenty years ago, he could only find it in New York so I'd often bring it as a holiday gift when visiting or he'd have to order it from the local BevMo.  Considering a bottle would last two years, I didn't have to bring bottles often.  LOL   Once I moved to California and started making this liqueur, he didn't need to order it anymore.  He really liked this version and my mom still enjoys an occasional sip.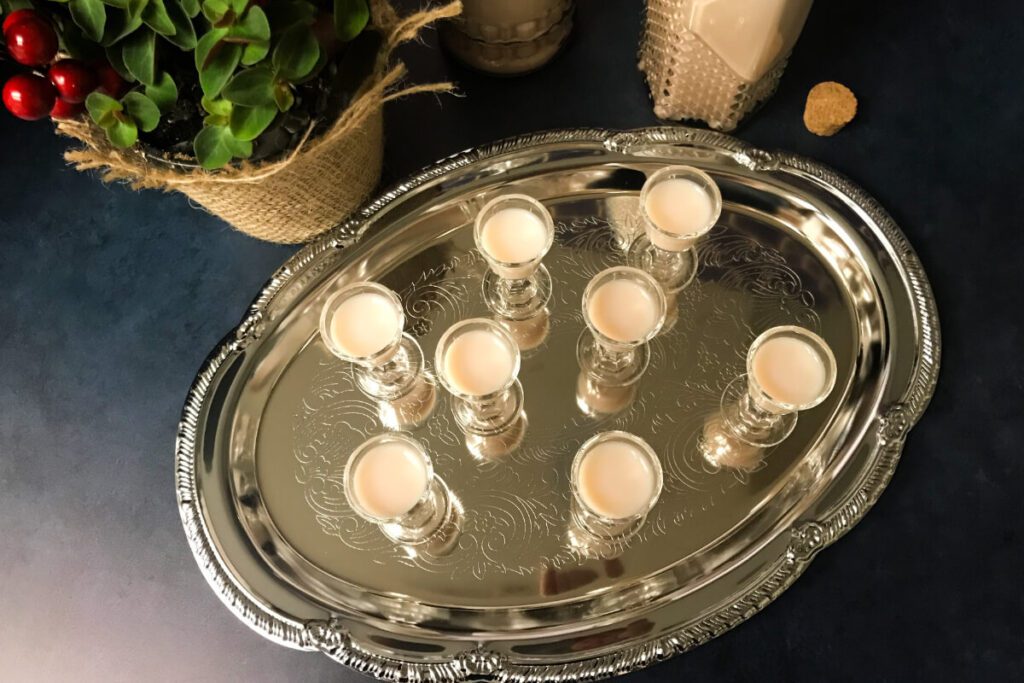 The drink that started it all is the Irish Cream.  Who doesn't love this?  People drink it on the rocks, in their coffee, mixed into cake batters and frostings and as a little cordial after dinner.  This recipe does use fresh, raw eggs so it does have an expiration date but I've yet to see it last long enough to worry about that.  This will hold in the refrigerator for two weeks.  Remember to use really fresh eggs, refrigerate immediately and use within two weeks.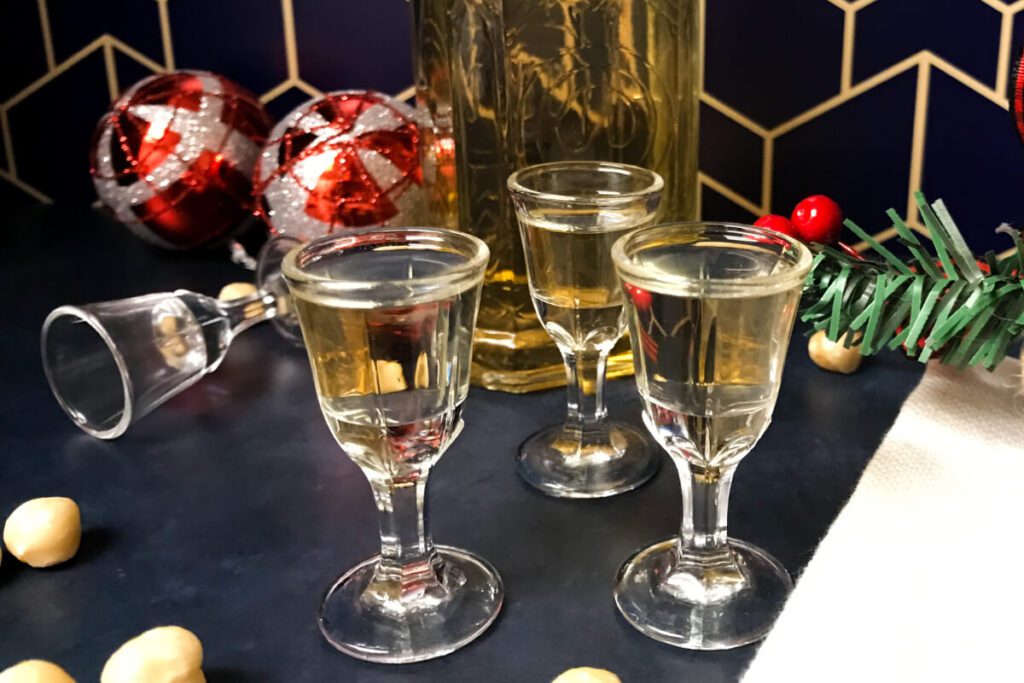 HAZELNUT LIQUEUR (my version of Frangelico)

I always loved Amaretto and had it after all my Italian meals.  In New York, you were either a Sambucco girl (set on fire with three coffee beans) or an Amaretto fan.  It is a delicious almond flavored liqueur that remained my favorite until I was introduced to Frangelico.  I went through a big Frangelico stage…it was my drink of choice for a couple of years.  I'd drink it straight up as a cordial, over ice or over ice with club soda like a cocktail.  It's great in coffee and coffee drinks and is delicious when whipped into cream or frosting.  If you haven't had it, it is worth trying…you just might fall in love with it.
Bottled with ribbons, bows, cards and ornaments or put in a pretty wine bottle, these are gifts all the adults on your list will love!