Whenever I find a new product that I like, I experiment and find different ways of incorporating it into my menus.  This month, I discovered St. Pierre Brioche Waffles in the bakery department at my supermarket.  I was familiar with the brand since I buy their brioche hamburger rolls and bread quite often.  So, I tried their packaged waffle.
So, first of all, this product isn't the way I think of a waffle.  I'm most familiar with a waffle that is crunchy on the outside, soft on the inside, and kind of neutral in taste so it can handle all the maple syrup and butter.  This brioche waffle is dense and more like cake.  It is a take on the Belgium Liege waffles I've had where little pieces of pearl sugar are in the dough.  BTW those melt nicely into this waffle when they are heated.  This waffle has a completely different taste and texture than either of those waffle types.
With that said, I found it to be a great snack all on its own right out of it's individual wrapper but first I tried it as a traditional breakfast (toasted with butter and syrup) and it was fine but I really gained some traction when I tried it with some savory dishes.  The sweetness of the waffle really is great against the savory tastes in some of the dishes I used the waffles in.  In all cases, I found toasting or heating them in the oven to bring out their flavor added just what was needed in my recipes.  Plus they were just a little crispier and I liked that a lot.
The waffles aren't very big but they are rich, so I found one is more than enough for any recipe I created.  They are pricey ($6.99 in my store for a bag of six.) so I really wanted to be sure they added something to each dish… and they do.  I love finding a product that saves me time but doesn't sacrifice taste and this is it.  So, after a lot of trial and error, these are my three favorite recipes using the St. Pierre Brioche Waffles (so far).
First, I made a really easy chicken and waffle dish and topped it with hot honey.  Because the waffles are sweet, I really liked adding a little heat to the dish.  This got rave reviews from the family.  I used chicken tenders and was able to get this on the table in under 1/2 hour.  Don't be scared by the term "hot honey".  It is just honey mixed with pepper flakes.  You can make it as spicy as you like and you can whip it up in under a minute.
My second recipe was an open faced sandwich.  A sweet and spicy raspberry jam is smeared on the toasted waffles and they are topped with Turkey and Smoked Gouda.  They are then broiled to melt the cheese.  This is the perfect starter, lite lunch or brunch entree on a buffet.  These were a big hit and very filling.  I served them with a fruit salad and a mimosa for brunch.  Sooooo good.
I also made an Eggs Benedict dish and substituted the waffle for the english muffin.  This was a winner and really, really tasty!  The key here was adding a little heat to my blender hollandaise sauce to cut the sweetness of the waffle.  I went with cayenne but Sriracha or tabasco would have worked too.
All three recipes were well received by the family and I fully expect I'll be keeping the waffles in regular rotation at my house.  Give them a try!
OPEN-FACED SWEET & SPICY WAFFLE BITES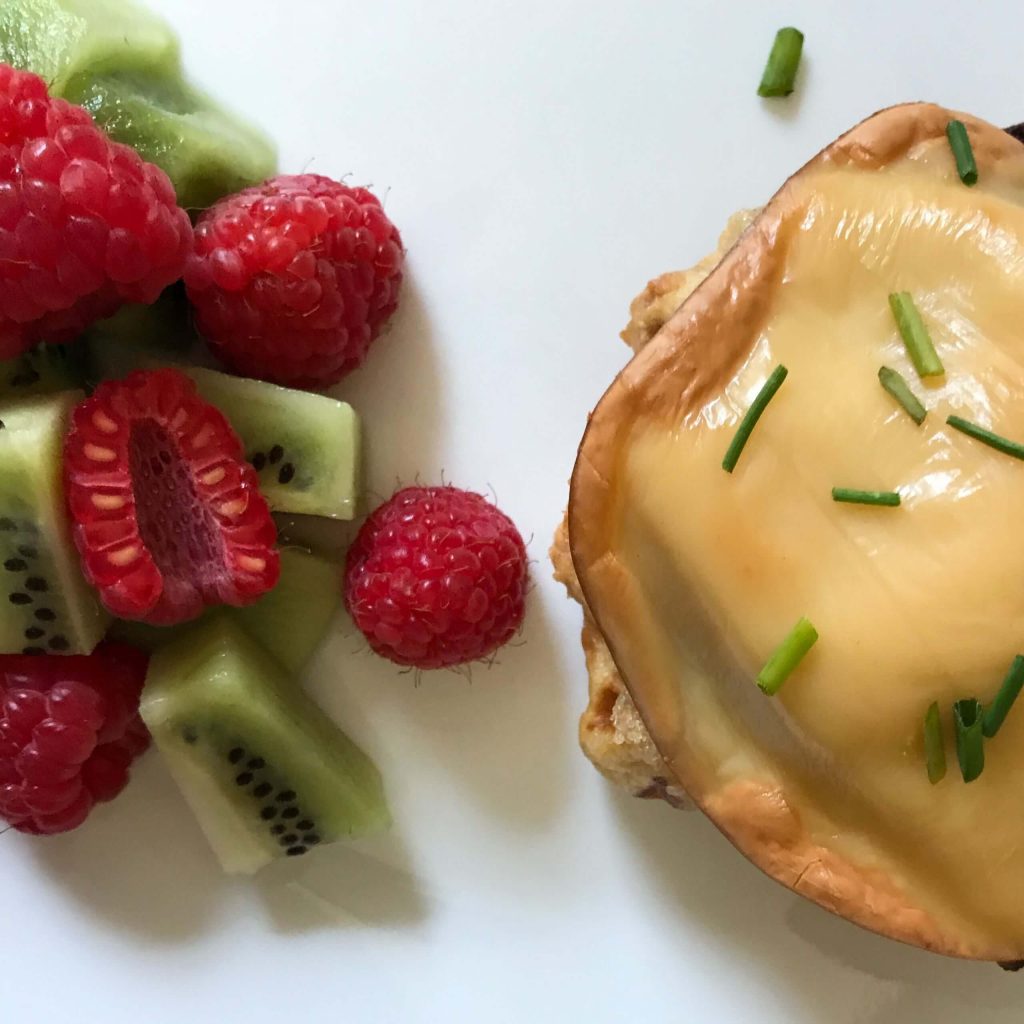 EGGS BENEDICT WITH BLENDER HOLLANDAISE & WAFFLES