Puff pastry is a home cook's best friend.  It makes you look like a superstar in the kitchen and requires very little manipulation to create fabulous dishes.  Puff pastry is the miracle ingredient found in almost every grocery store's frozen food section. It isn't hidden and it isn't hard to locate. You'll find it right in the frozen desserts aisle next to frozen pies, frozen fruit and the phyllo dough.  It has been sitting there all along, just waiting for you to buy it.
When baked, this dough puffs up into delicious pastry made of crispy tissue paper layers of golden goodness. Too much? You won't think so once you start working with it. The possibilities are endless when deciding on what to do with puff pastry. The options are only limited by your imagination. It does really well in both savory and sweet dishes and can work as an appetizer, side dish, main course or dessert! Just having it in the fridge is a safety net for me. I know it is there and I know I can turn it into "something" in a hurry if needed.
Most of us probably had our first taste of puff pastry from a French bakery. Something wonderful would be baked inside like custard, chocolate or fruit. But to actually make your own puff pastry is an art and one most home cooks and even chefs, leave to the pros. It is a pain staking process that can easily go wrong. Thank goodness for Pepperidge Farm who introduced frozen puff pastry in the 1950s. This pretty much enabled all home cooks to bake and create with puff pastry and most of us have fully embraced it.  If you haven't worked with it before, this is a brand new day for you.  You are going to love what you make.
If you are new to working with the dough, it is as easy as pie! (Sorry, it just slipped out!) You thaw the dough in the fridge overnight and it is ready to work with. In a pinch, I've just put it on the kitchen counter for an hour to thaw. Sprinkle your counter with a little flour and roll out the dough to the desired thickness and you are ready to create.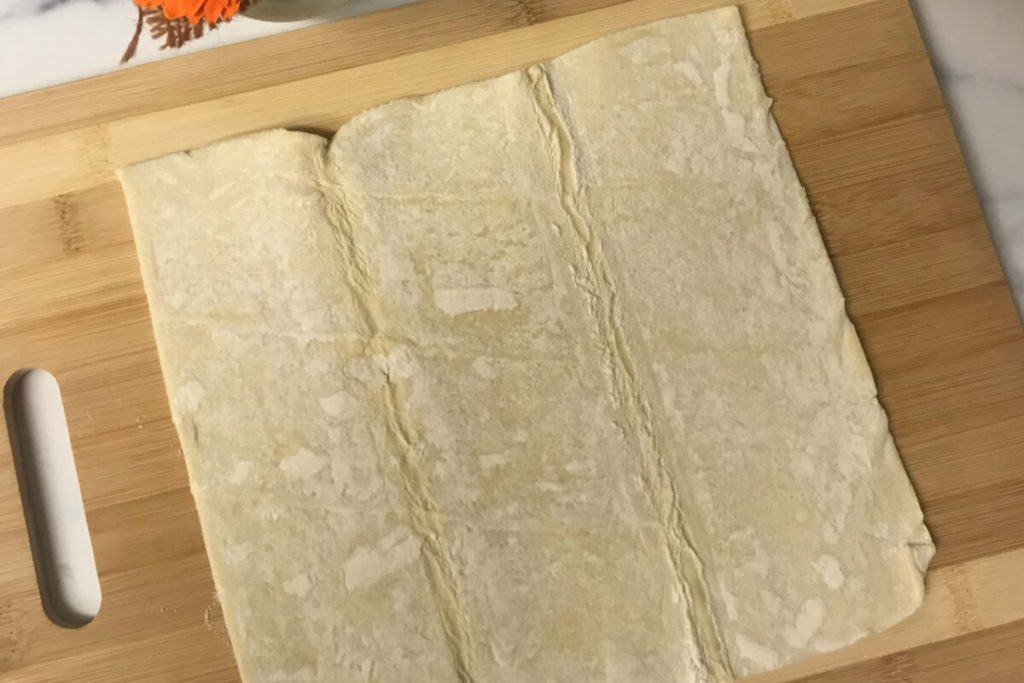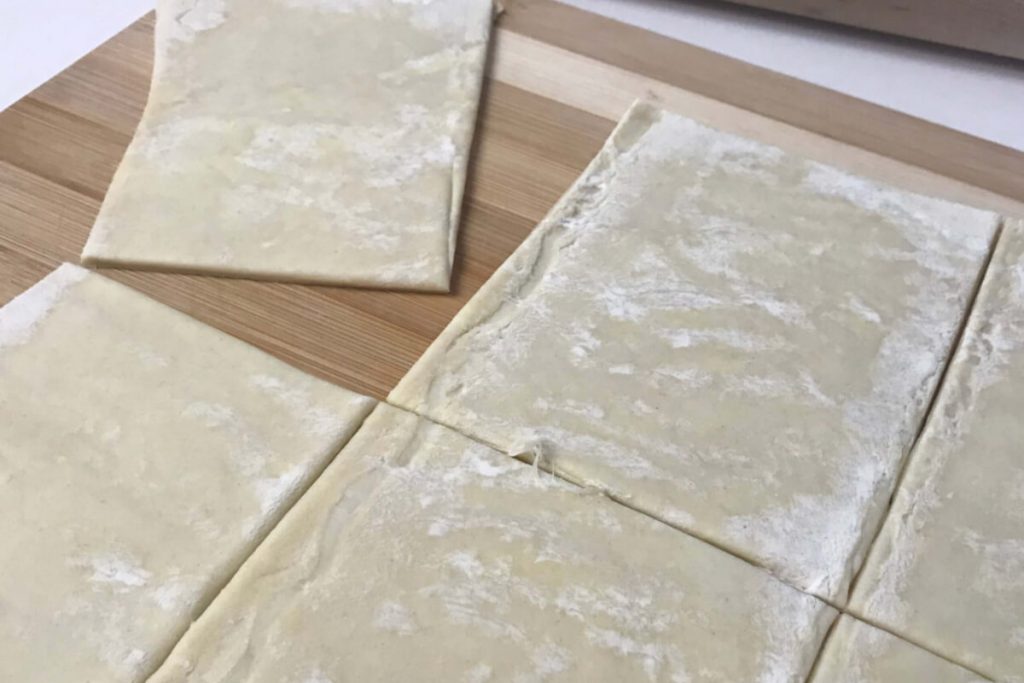 Puff pastry will come with two sheets in a box and each sheet has been folded into thirds. When you roll out the dough, you are evening out the sheet and getting rid of those folds. You can then cut strips, squares or circles or any shape you like to use in the recipe of your choice. Pepperidge Farm also has puff pastry cups that are fabulous when baked. They puff up and create a cavity that can be filled with whipped cream, custard or savory ingredients like mushrooms and scallops in a cream sauce. Yes, I keep those in my freezer too.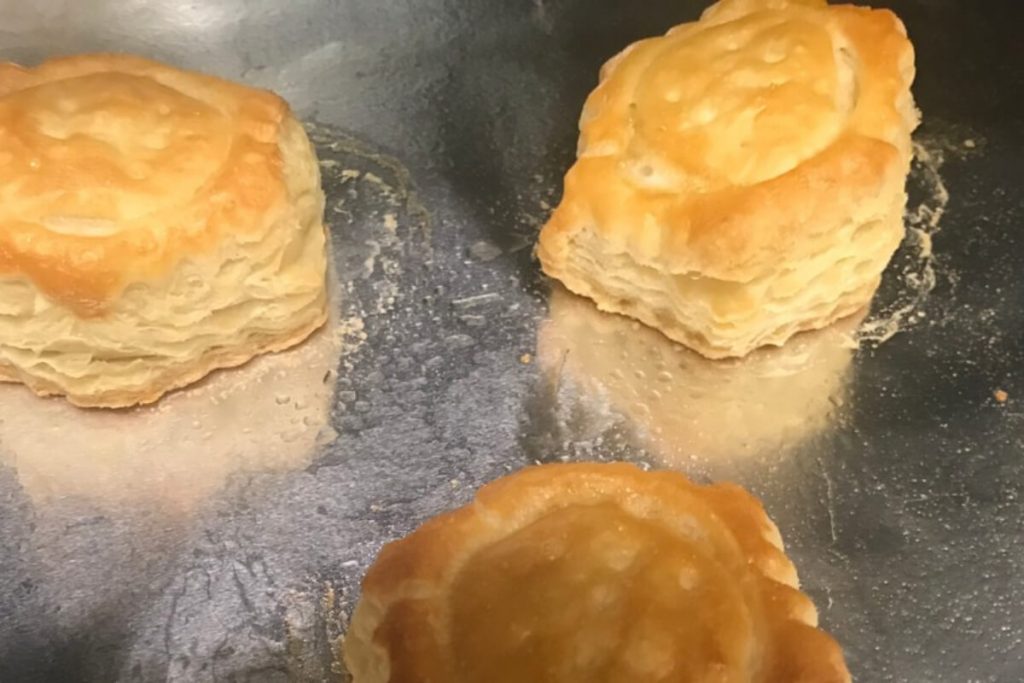 You'll almost always bake your pastry at 400 – 425 degrees to make sure the pastry puffs up and gets golden. That also means that bake time is short. Most recipes will be 20 – 25 minutes.
Now that you know where to find it in your supermarket and how to thaw the dough and prep it for your next meal or dessert, all you need are some great recipes. I've got you covered. Here are eight fast and easy, sweet and savory recipes using puff pastry. Try one, two or all of these recipes and watch your guest's eyes light up. This product is great and the recipes are tasty too. A simple square of puff pastry brushed with egg wash and baked until golden is the perfect topping for a bowl of soup. Little puffed squares make a great topping for a Chicken Pot Pie. Cut the pastry into strips and topped with cheese or everything bagel seasoning mix and the puff pastry is transformed into delicious bread sticks in minutes.
Let me know if you try any of these recipes and be sure to send photos. I love to see my reader's results! If you have a great recipe that you would like me to try and share on my blog, just let me know. I'd love to hear from you.
With no further delay, here are my Top Eight Sweet & Savory Recipes using Puff Pastry: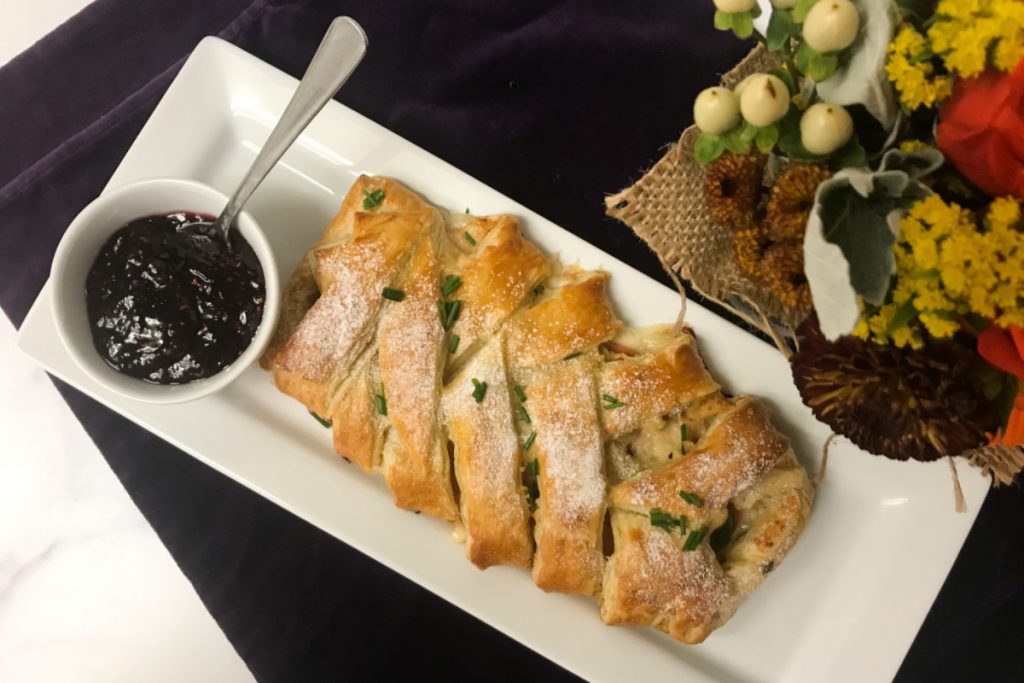 Monte Cristo in Braided Puff Pastry 
This dish is a stunner and makes a fabulous addition to a brunch buffet or as a lunch or appetizer.  The pastry is stuffed with ham, turkey and two types of cheese than wrapped in the puff pastry.  Don't be intimidated by braiding the dough.  It is simple and I give you step by step instructions and photos so you can follow along.  Raspberry jam or preserves are served on the side for one delectable bite.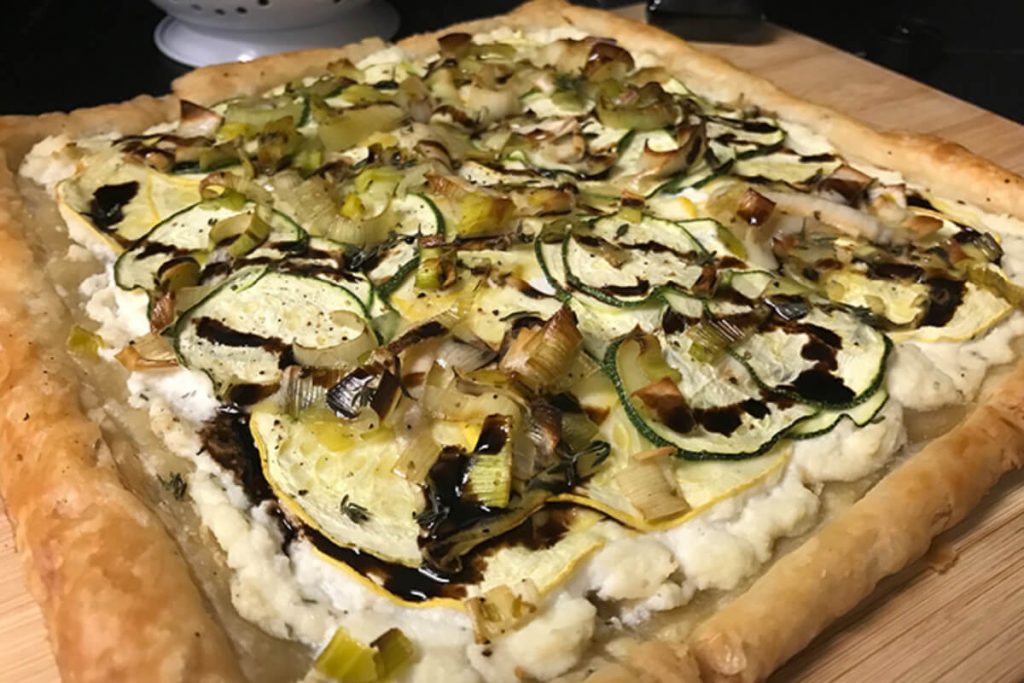 This is a fast and easy tart that is fabulous for lunch or as an appetizer.  I'm always looking for ways to use zucchini and this proved to be a tasty option.  Yellow summer squash and sweet onion join the party, along with ricotta and Boursin cheese.  The tart is then topped with a balsamic glaze for the perfect finish.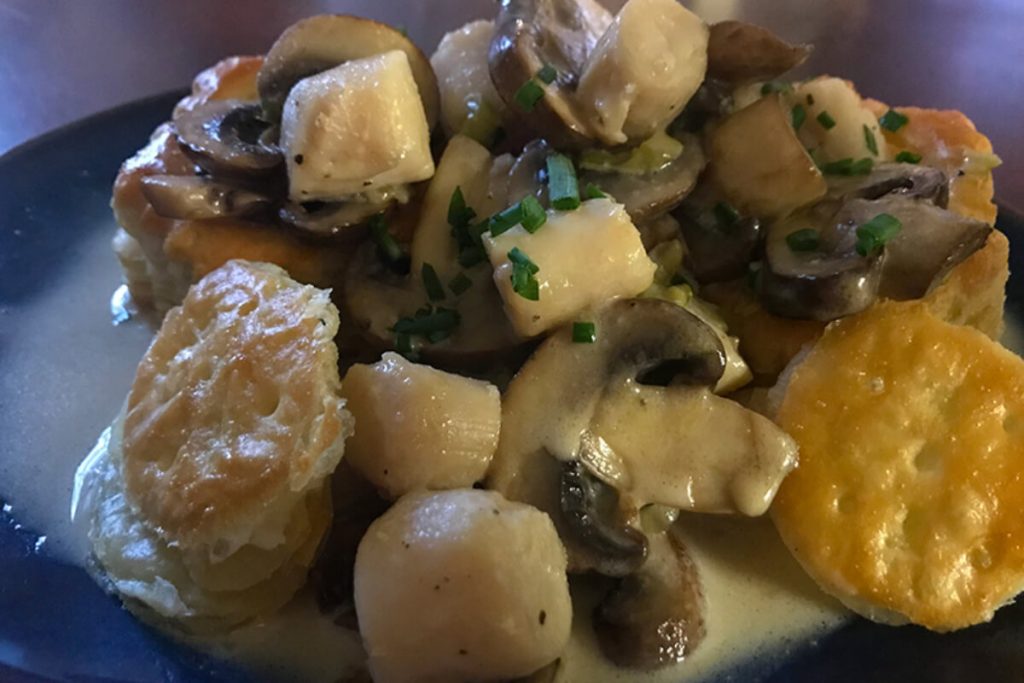 Scallops & Mushrooms in Puff Pastry with a Bourbon Cream Sauce
Using those adorable Pepperidge Farm Puff Pastry cups as my base, I fill them until they are overflowing with scallops and mushrooms. They are served with the most delicious Bourbon Cream Sauce.  This is the perfect, elegant starter to any meal.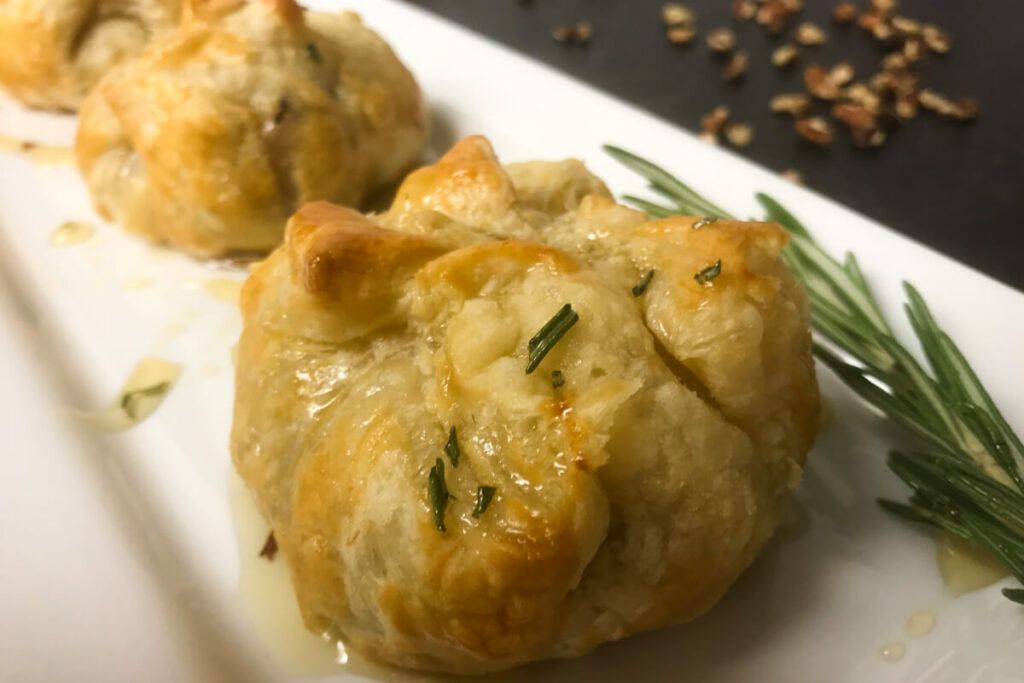 Fig, Gorgonzola & Pecan Bundles with Warm Honey & Rosemary 
These are just little bundles of goodness.  Combine the classic combination of fresh figs and blue cheese with chopped pecans and then wrap them up in puff pastry and drizzle with honey and you've got a killer appetizer.  These go really fast so make a double batch.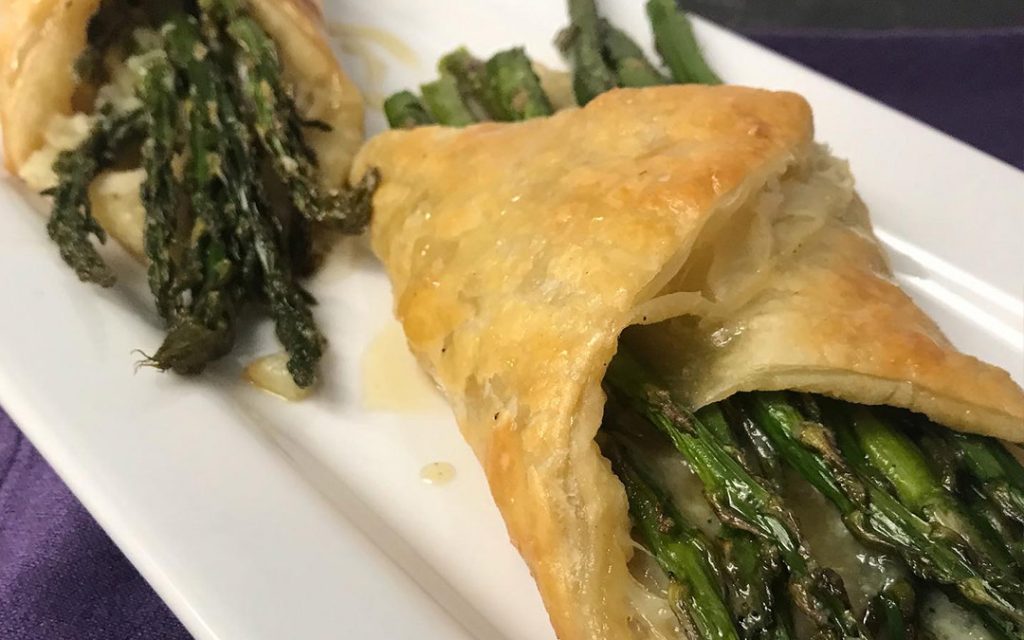 French Asparagus, Brie & Pate Bundles 
This is a great lunch!  Veggies, cheese and pate wrapped up in pastry are perfect served with a salad and a glass of wine.  If you don't like pate, leave it out and you'll have a delicious veggie and cheese wrap…French style!!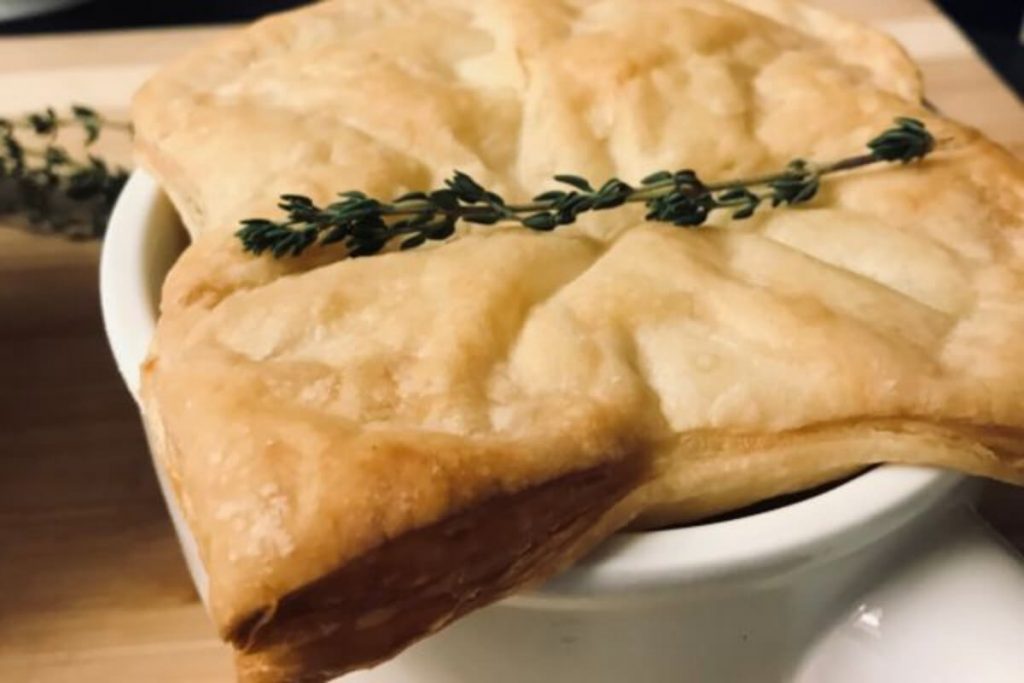 Cream of Mushroom Soup En Croute 
Topping my cream of mushroom soup with a square of puff pastry was a no-brainer. Delicious!  I now top a lot of my soups, pot pies and casseroles with puff pastry and no one complains.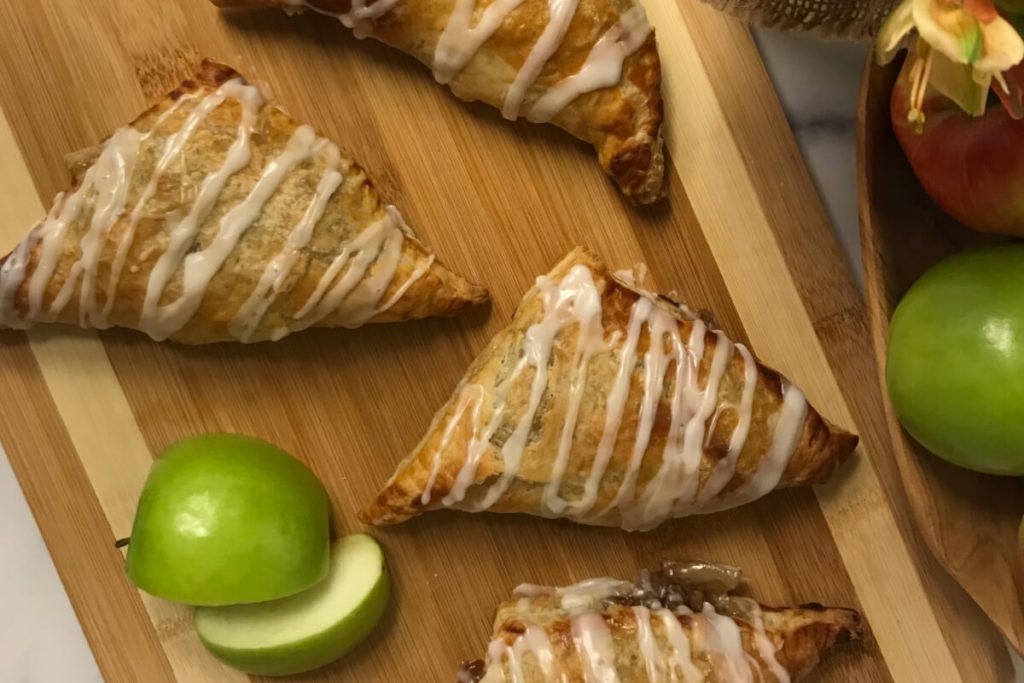 Apple Turnovers are probably one of the more classic uses for puff pastry.  In this recipe, I make it even easier by using canned apple pie filling that has been spruced up with spices, nuts and fresh apples.  Glazed with a homemade icing, this is the perfect dessert.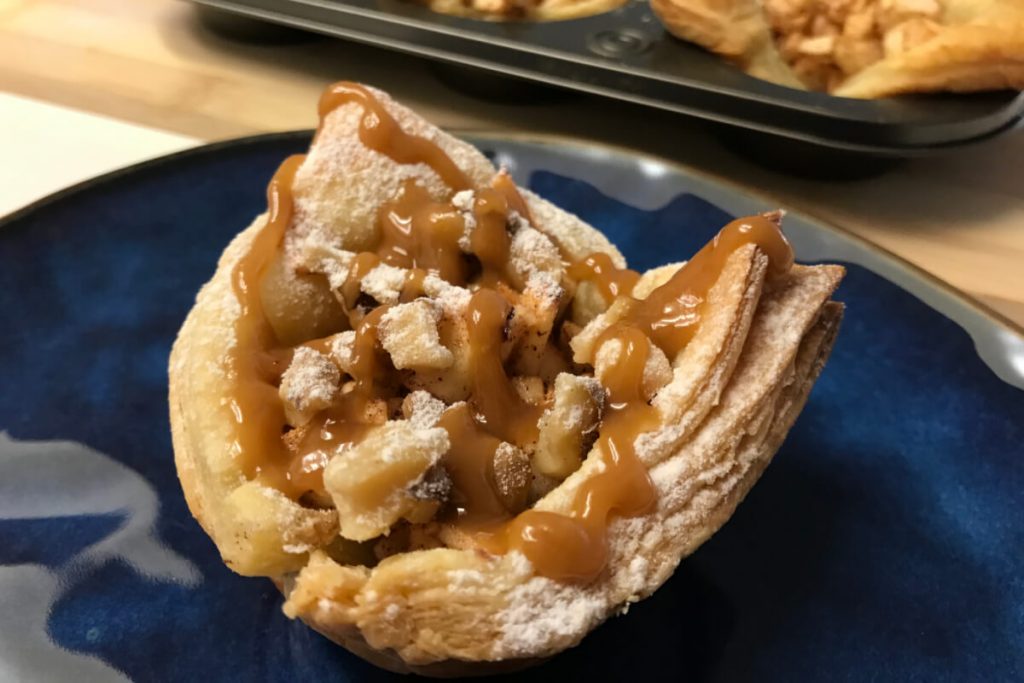 These little, individual apple tartlets are the perfect dessert after a big meal.  Fresh apples and nuts are topped with a carmel sauce and served in little cups of pastry made right in a cupcake tin.  All the goodness of a big dessert in a couple of bites.  Yum!