Let's get the boat versus canoe thing out of the way first. Most people call horizontally cut zucchini that has had it's middle scooped out and then stuffed, Zucchini Boats. A long time ago, when I was cooking with friends, I started calling them canoes because they kept tipping over! The name stuck and I've been calling them that ever since. The truth is, I can keep them standing up with a couple of tricks like using a casserole dish to hold the zucchini in place but 9 times out of 10, when I'm serving them it is "stuffing over board"…lol. It doesn't really matter since they are just so good.
These are versatile, easy and fast to make and if stuffed with the right ingredients, a really healthy dish. I have a ton of these in regular rotation and experiment with different flavor combos all the time. But these are my favorite "international canoe" recipes that I make all the time.
Learn a couple of simple techniques for handling and prepping the zucchini and you are going to have these in your arsenal of weekday go-to meals. I'm like everyone else, working and running all the time so when I just don't have time to create an elaborate meal but still want something that is healthy, satisfying and easy to make, a zucchini canoe will make it to my table. If you Google, you'll see a million versions…these four are just the way I like to prepare them so feel free to substitute ingredients and mix things up. Like a lot of my recipes, this is more of a guideline. Make these recipes exactly as written or substitute what you have in the kitchen. You won't hurt my feelings!
Let's start with the buying and preparation of the zucchini. Purchase medium sized, firm zucchini. I find the really big ones are a little tough and sometimes bitter. The small ones are great to sauté or grill but not so great for stuffing. When you get them home, rinse them off and dry them.
To get them ready for whatever stuffing you decide on, cut them in half-length wise. Using a small spoon or melon baller, scoop out the insides of the zucchini and put to the side. I personally have this great grapefruit spoon that I use for this job. (I know, who has one of those? LOL) With its tiny ridges, it does a great job scooping out the insides. If you have one of those, try it. If you decide you can't live without trying it, grab one (or a dozen) here. Grapefruit Spoons.
You want to create a nice deep and wide cavity to fill with stuffing BUT you need to keep enough of the zucchini shell to support the filling.
Be sure to chop up that zucchini flesh and use it any of the recipes you make. It is very mild in flavor and will absorb the flavors you are using. It is just another way of getting in your 5 veggies a day!
Now that your zucchini canoes are cut and ready, brush the insides with a little olive oil and sprinkle with salt and pepper. I don't like to miss an opportunity to season the zucchini. Put them on a baking sheet and bake in a 350-degree oven for about 10 minutes to slightly soften them. This is an important step. Otherwise, the zucchini is raw and a bit hard when the dish is finished. This process will slightly cook the zucchini and heat it through. You don't want to overcook the vegetable otherwise; the zucchini canoe will get to soft and will not support the filling. In my oven, 10 minutes is the magic number. Just watch and see how your zucchini cook. Remember, time will also depend on the size of your zucchini.
Once you remove the zucchini from the oven, you are ready to stuff them with your favorite fillings. It is at this point when you can decide if you are going to just leave them on the baking sheet to fill and then broil in the oven OR if you want to transfer them to a small casserole dish to help them stand up straight by leaning against easy other and the sides of the dish. I've served this in smaller single serve casserole dishes so that each person has their own dish with two halves. The presentation is neat and pretty if you have the right sized dish. You can serve these family style but serving can get a little messy. So, I prefer to plate them in the kitchen if I've made them on a baking sheet or in a large casserole dish. If you decide to purchase individual serving size dishes, these are cute and inexpensive: Individual Casserole Dishes
Once you've got your zucchini canoes ready, you just fill them with your filling of choice and if topping with cheese, it is time to get under the broiler to let the cheese melt and get brown in spots. That usually takes 2-3 minutes. Then, it's time to add toppings if the recipe calls for them and my favorite part, it's time to eat!
One last note, while my recipes are for two, they are easily doubled, tripled, etc. You can easily prepare your filling in advance and have it in the fridge ready to go. Some times I'll make a double batch of the filling so I know I have my dinner and another quick meal during the week. Just reheat the filling before stuffed the roasted zucchini canoes.
I hope you like my international flavors. Try one or all of them and if you make them, be sure to post to Instagram or Facebook. Enjoy.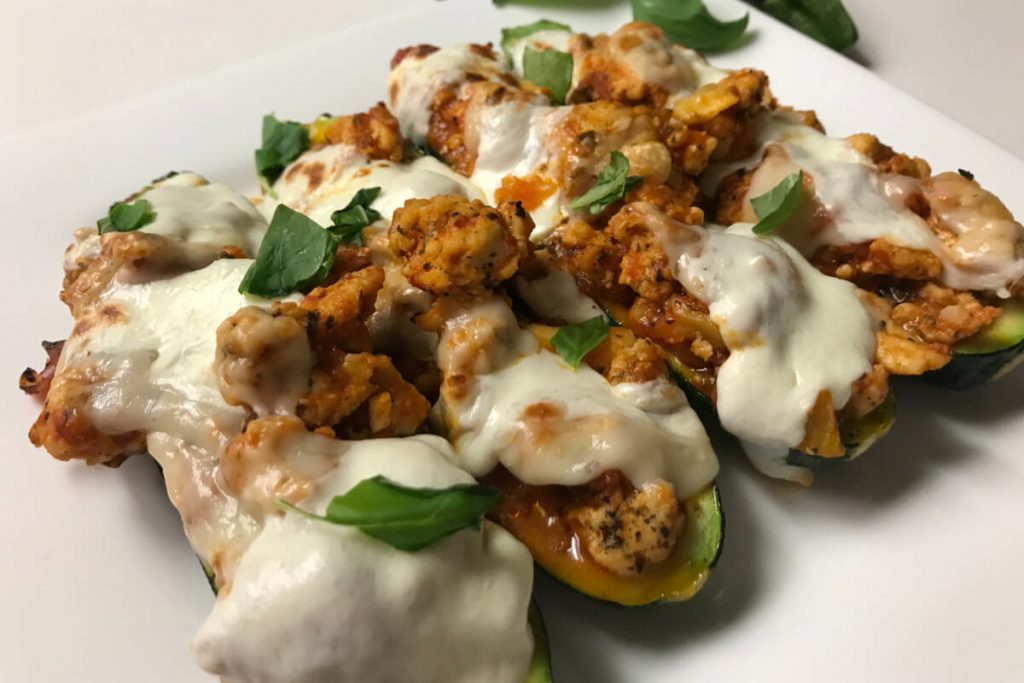 ITALIAN TURKEY ZUCCHINI CANOES
This is one of my favorites and kids love it.  You can use ground beef or crumbled sausage in this dish and everyone will eat it right up.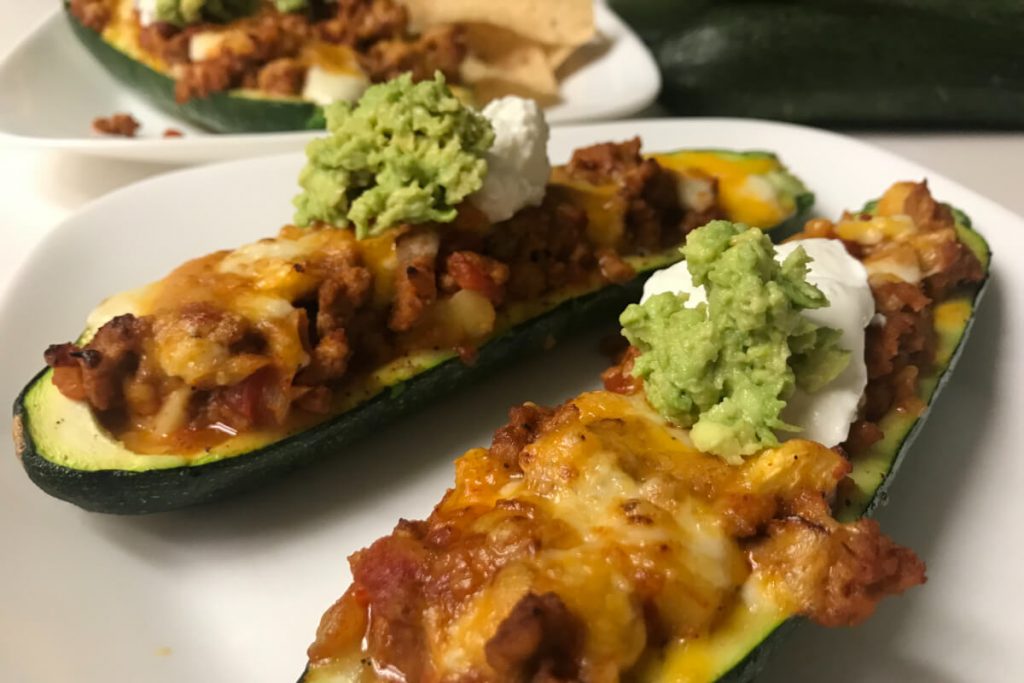 MEXICAN TURKEY ZUCCHINI CANOES
Who doesn't love Mexican flavors?  You can serve this with salsa or chopped tomatoes and even crush some tortilla chips on top for crunch.  I'll ususally served these with a handful of the tortilla chips as a great lunch or dinner.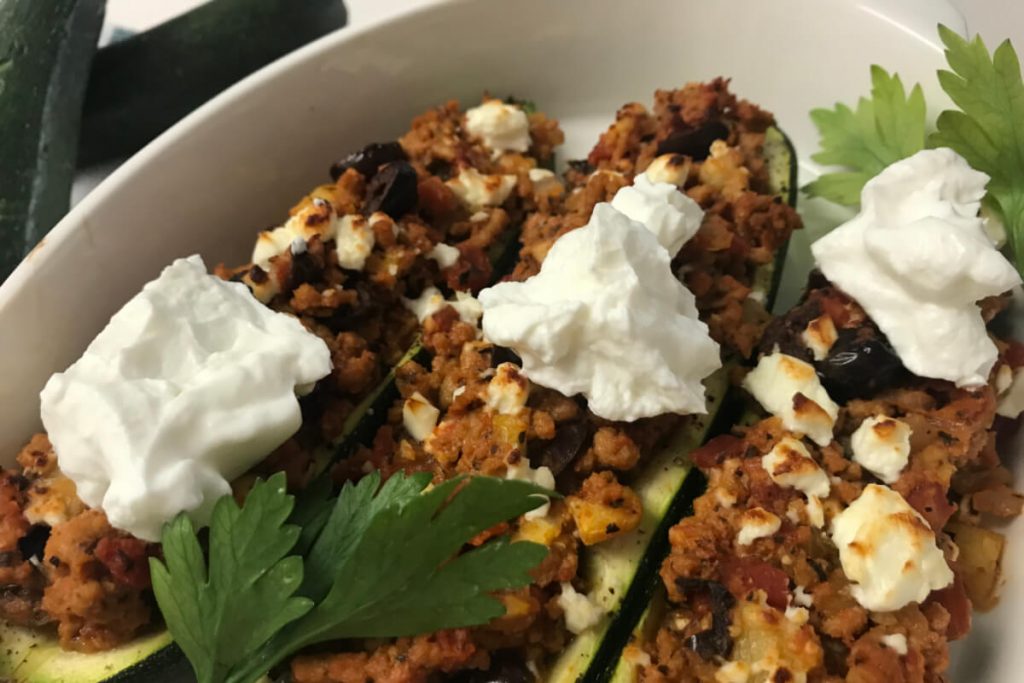 I'm a big fan of Greek flavors so you'll see lots of my recipes using feta cheese, capers, kalamata olives, olive oil and Greek seasonings so creating a Greek inspired zucchini canoe was a no brainer.  I also have one with orzo and shrimp below that is really good.  You can use this same recipe and substitute ground lamb and get a fabulous result.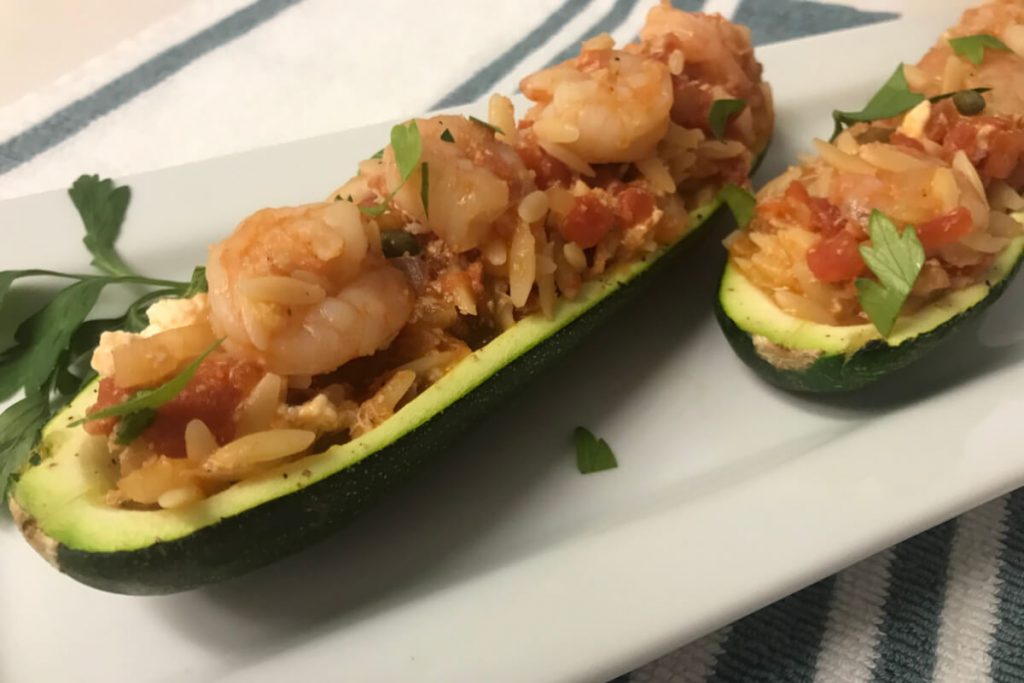 SEAFOOD STUFFED ZUCCHINI CANOES
In this recipe, I've used shrimp and crabmeat but any combination of seafood would work.  Use your favorites or what you have on hand.  I also used whole wheat orzo but regular orzo or rice would work too.
So, while these are four of my favorite stuffed zucchini recipes, I'm sure you'll be seeing plenty more over the years to come.  If you have a great recipe you want to share, please email me.  If you make any of these recipes, be sure to post to social media and tag me.  I'd love to hear from you!