Creating an attractive cheese plate, board or gift isn't hard. It just requires a little planning, shopping and arranging. First, how many people will you be serving? Is it a gift that has to be wrapped or a tray that will be served at your next event? Once you have that nailed down, you are on to selecting the cheese.
Cheese:
2-6 Selections of cheeses (try adding at least one soft and one hard cheese. Brie or Camembert are reasonably priced and great tasting soft cheeses. A sharp cheddar, smoked gouda or block of Parmesan can be great hard cheese choices. I also like to add a goat cheese option and if I'm having vegan guests, a vegan choice. Miyoko's Creamery makes its presence known on my cheese boards on a regular basis. Even meat eaters like their cheese.
If you are like me, a blue cheese drizzled with honey is the perfect bite! A soft Maytag blue cheese, a creamy cambozola or a classic stilton all work at rounding out your cheese board. For all things "cheese" and to purchase some unique types online, visit Murray's Cheese Shop, a New York Landmark.
So far, so good. You have the foundation of your cheese board. Now, we need to "accessorize" the board with lots of delicious accompaniments. The options really are endless, but here are some guidelines for a basic platter. You can increase or decrease the items based on the number of people you'll be serving and, of course, your budget.
Accessories:
Dried meat or cold cuts. (Salami, prosciutto and pepperoni are good choices)
If you want to create a little upgrade and add an elegant touch to your cheeseboard, add salami roses.  These are so simple to make and look great on any platter.  Simply buy a package of pre-sliced small salami slices (like Genoa or Hard Salami).  Grab a champagne flute glass.  This provides the perfect size to mold your roses.  All you are going to do is fold each slice over the rim of the glass.  Half of the slice is in the glass and the other half is pressed on the outside.  Do this around the entire rim of the glass pushing half into the glass and molding the other half over the rim of the glass.  Repeat this until there isn't any more room on the inside of the glass to add any more slices.
Invert the glass into the palm of your hand and the "rose" will fall right out.  Place on your cheese board and enjoy the oohs and aahs!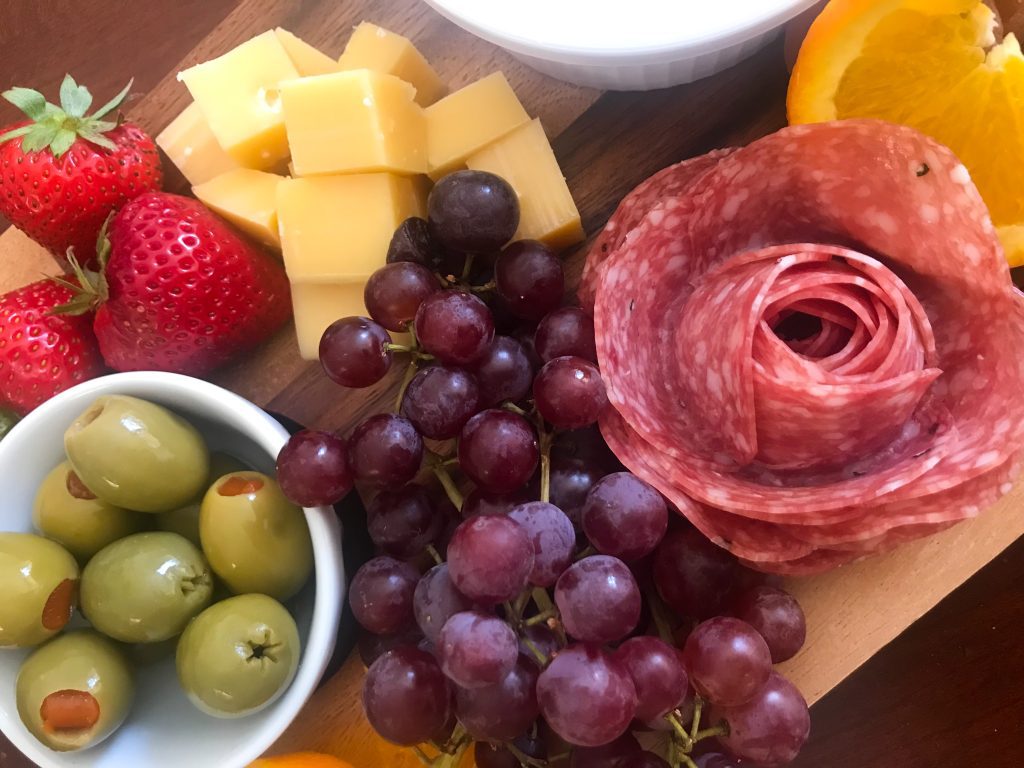 2-3 types of crackers (water crackers, wafer crackers, flavored biscuits and a baguette are all good choices)
1 small jar of honey, fig preserves, tart cherry preserves or quince paste is a great addition.  Fresh honeycomb right from the farmer's market is a nice touch too!
Dried fruit like apricots or cherries go great with cheese and provide something extra to nibble on.
Fresh berries, grapes, clementines and figs
Assorted Olives
Nuts: walnuts, almonds, hazelnuts and pistachios are great choices.  A specialty nut like Marcona almonds or candied nuts are also a nice touch.  While a lot of people like whole nuts served with metal crackers, be aware that they do cause a mess.  So, I tend to save those for sporting events or Thanksgiving and Christmas where they are absolutely mandatory in my house.  We grew up cracking walnuts on those holidays and it is a nice throwback to my childhood.
Pate is another great match with a variety of cheeses. Whether it is a duck, mushroom, chicken or liver pate, they all work.  You can usually find a nice pate at upscale grocery stores, Trader Joe and Whole Foods.
If you've made some homemade crackers or bread go ahead and add them to the tray. Have fun when shopping for the items and pick what is within your budget and something you know the receiver will love.
Once you've selected the cheese and the accompaniments, it is time to select the serving "vessel".
Presentation Vessels:
Your assortment can be displayed on everything from a plate to a beautiful hardwood cheese board. Let your imagination run wild but here are some tried and true options:
. Serving platters
. Cheese boards
. Slabs of slate
. Slabs of Himalyan Salt
. Wooden trays
. Baskets
Now, let's build your cheeseboard for guests or as a gift.
The great thing about a cheese plate, tray or platter, is that it can be built to serve anywhere from 1 to 20 people. Deciding on your "vessel" for displaying the selection is probably the most fun. Should it be a basket, a cheese board, a glass platter or a slab of slate? The possibilities are endless. For my last few gifts, I've chosen a cheese tray. I wanted to bring a housewarming gift to my niece and give a neighbor a welcome home treat. The wood serving tray would look great to serve the cheese but could then be used to serve cocktails or snacks to guests at a later date. I got the tray pictured in the photo above at Target but I've seen beautiful ones on Etsy.  Simply line the tray with a paper doily, parchment paper or new cloth napkin, fill with your assortment of goodies and then wrap the whole thing up in colorful, transparent wrap and a bow. I keep different colors on hand for wrapping lots of my baked goods during the year.
If I'm entertaining small groups, I may put out individual platters or smaller vessels for different items.  I like to use a small slate board for my Whipped Feta with Cucumbers.  Topped with fresh, edible flowers, it looks beautiful.  Then on a separate slate tray, I may have a few other cheeses and some fresh fruit.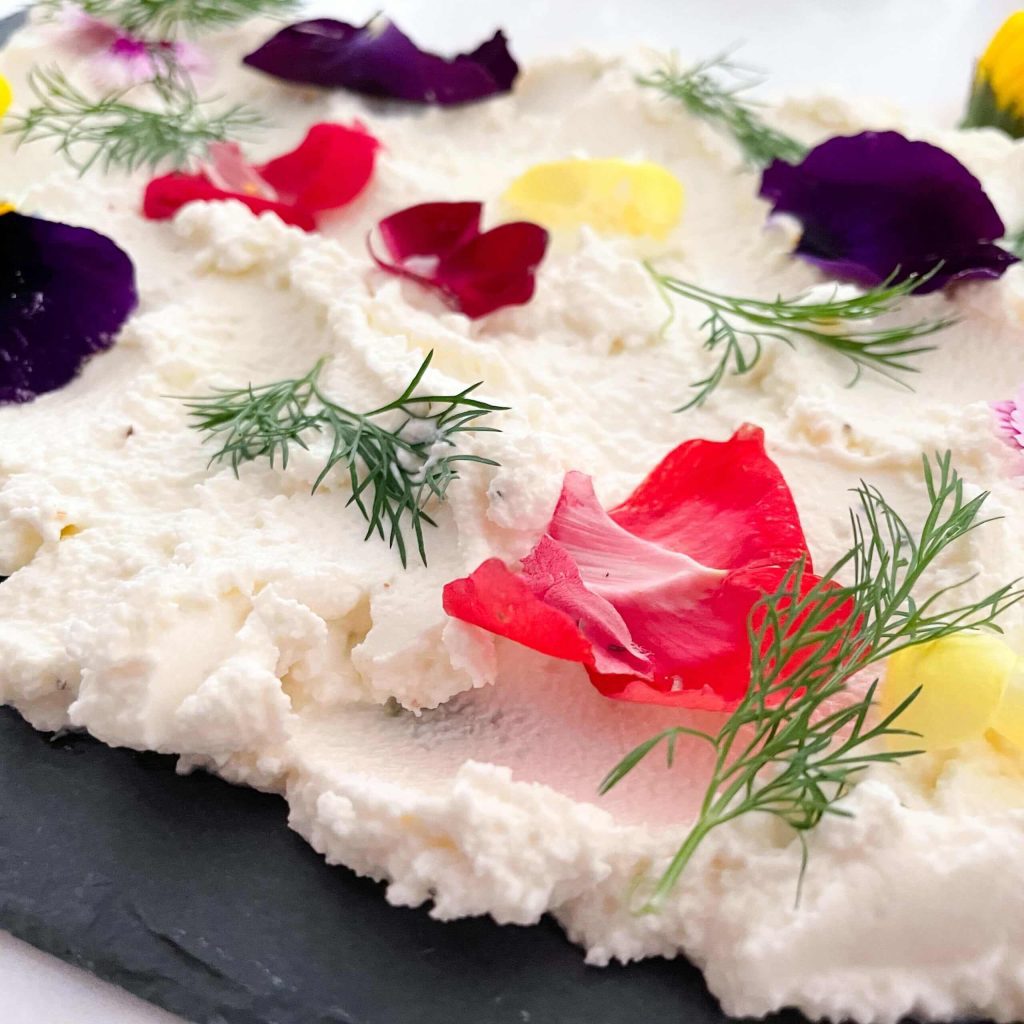 If I'm entertaining large groups, I have a long, hard-wood plank that I display everything on and place it either right down the middle of the dining room table, coffee table or outside patio table.  You can get a similar one at Etsy.  Or check out my shop for different options.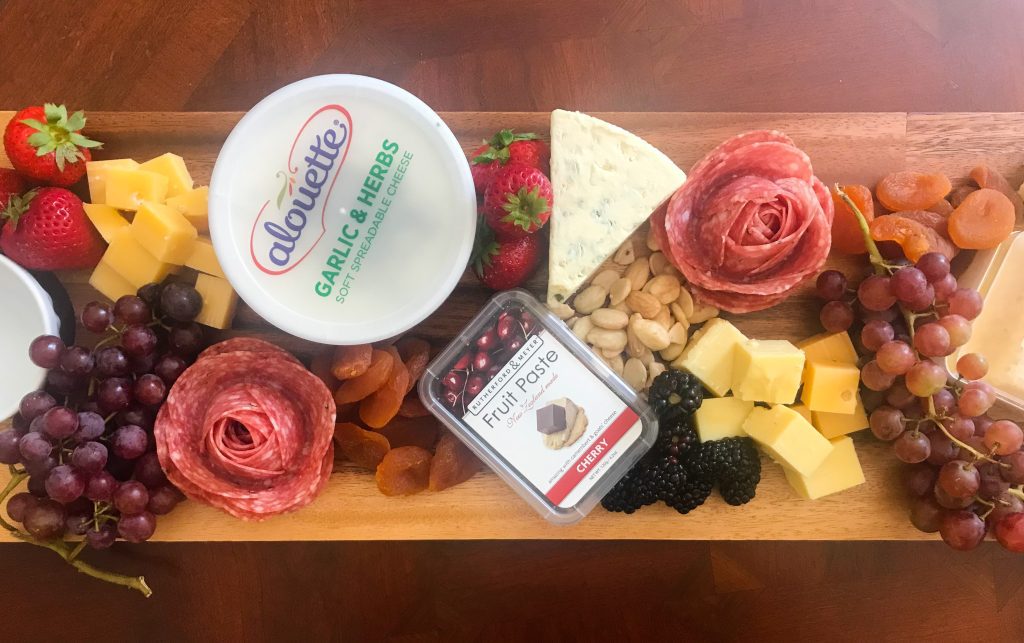 If I'm just presenting this to my guests while I'm entertaining, I like the cheese to come to room temperature first, then I "accessorize" it and present without the wrapping and bow. This is a simple, make ahead appetizer that everyone loves. Put it on the bar where people are helping themselves to drinks or in the living room where people are gathered. Wherever there is a cheeseboard, you'll find a crowd so keep that in mind when it comes to placement.  You don't want the cheeseboard blocking your access to the kitchen!  Have fun with this and add your own special touches.