Before we get into the recipes, please tell me that you are familiar with Kodiak Cakes Power Cakes Flapjack & Waffle Mix? (I know, that's a mouthful! No pun intended.) I was introduced to this mix at a WW meeting a few years ago. The conversation revolved around how good this tasted, how healthy it was and how much protein it contained. Anyone who has every tried to lose weight knows that to feel satisfied, you often need to increase healthy protein intake and this mix is packed with it. It is also 100% whole grain. My body needed both.
That was enough to get me to try it. We all need shortcuts in our lives and if they are healthy ones, we win twice. So, I bought my first box and whipped up a couple of their recipes on the back of the box. This isn't rocket science (Just add some water and you are good to go)! I made some pancakes and I think I tried to make a waffle. They were fine…nothing special, but good.
By now, you know me and you know I immediately went to work thinking up ways to use this really basic and healthy base to make my own pancakes, waffles, muffins and more. I use this mix all the time now especially when I want to make a batch of waffles or muffins on a Sunday and freeze them for the week. Talk about a time saver.
I know they also have a Carb-conscious version but since I do not fear carbs, I haven't tried it. Recently, I've also seen a chocolate muffin mix at my grocery store. I'm sure I'll get around to trying that one. For now, using this mix just means I can get a good dose of whole grain and a solid serving or two of protein to start my day. (I usually make mine with skim milk and/or yogurt for even more protein.)
You can use this mix to make cakes, cookies and breads. Today, I'm just giving you my top three recipes – the ones I make in regular rotation. I have heard that people can't find it in every part of the country. I know Amazon carries it, so feel free to try there.
Now, let's move on to my top three breakfast items made with the Kodiak mix. Healthy Start Kodiak Muffins, Mini Lemon Pancakes & Vanilla Waffles (see recipe below).
My muffins are just packed with good for you "stuff". Made with skim milk, Swerve sweetener or Lankato Monk fruit sweetener, nuts and raisins, they are moist and pack a nice dose of protein, whole grain and fiber into your breakfast. As with all my recipes (OK, 90% of them) you can play with the ingredients and use the recipe as a guide for proportions. Don't like almonds, use walnuts. Don't like nuts? Leave them out and add more fruit. They freeze well and are a great grab and go breakfast. Get the recipe here:Healthy Start Kodiak Muffins
Another favorite in my house are theMini Lemon Pancakes. A take on dollar pancakes, these are flavored with low carb, lemon yogurt (I grab the Carb Master Brand at Ralph's supermarket.) and the juice and zest of fresh lemons. Once you top these with my blueberry syrup, you are getting that perfect lemon-blueberry marriage. I microwave my syrup with the blueberries in a measuring cup for about 30 seconds and then serve it warm. Kids love them because they're small. Adults love them because they are so darn good! I top a pile of these with some powdered swerve confectioner's sugar (Looks so professional and pretty darn cute!) and lemon zest.
Waffles. Need I say more? Just the word makes you hungry. Note to self: Google where the word Waffle came from…it's just such a great word…lol. For my Vanilla Waffle recipe (see below) I keep a batch of the mix (already mixed and in a measuring cup) in the refrigerator ready to go in the morning. If I've made a batch of waffles in advance, I just take one out of the freezer and pop it in the toaster. Here's the fun part of making these – I make my waffles as individual waffles using the cutest little waffle maker from DASH (I got mine for under $14) It makes the perfect, little waffle one at a time. Don't be alarmed…it is cooks a waffle really fast. It is the perfect portion control tool in my kitchen. It heats up fast, it's small and easy to clean and store. I don't like a lot of "gadgets" and I don't have a lot of room to store "stuff" but this is the greatest addition to my arsenal of kitchen tools. I got a blue one but they come in different colors. You can grab one on my Everyday Kitchen Shop.
I also loves this on Sunday mornings when people are wandering in for breakfast at different times. The batter is ready, the little DASH is set up and I can whip up a waffle in two minutes. (BTW, I make waffle hash browns in it; use it as a Panini press, and have cooked some Pizza dough in it to make mini pizzas.). Look for future recipes using my new "toy".
Anyway, there you have it. My favorite recipes using Kodiak Cake mix. It is definitely worth having a box or two on the shelf.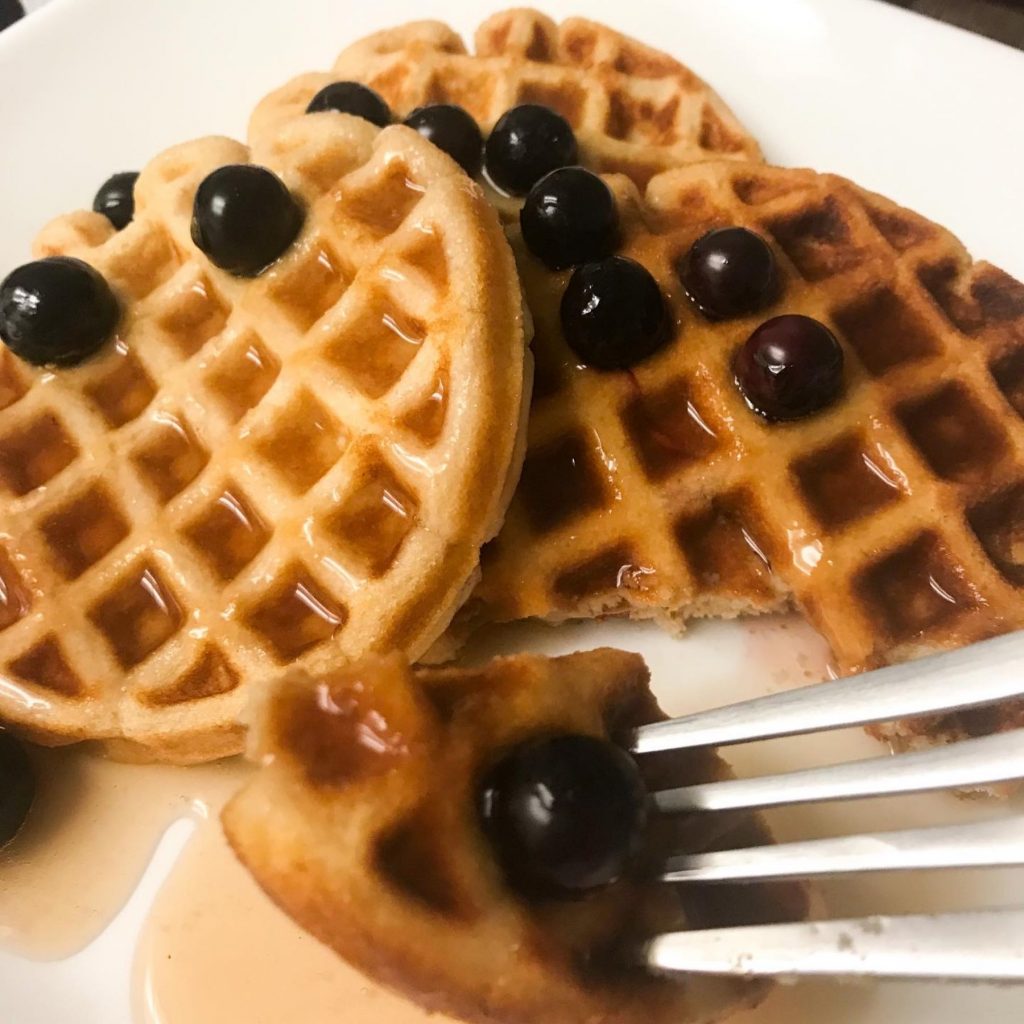 VANILLA WAFFLES
SERVES 2
Prep time: 2 minutes
Cook Time: 3 minutes per waffle
INGREDIENTS:
1-Cup Kodiak Cakes Cake Mix
1-Cup Skim Milk
1 Tbsp. Chia Seeds
1 Tsp. pure vanilla extract
1 Tbsp. Lankato Monk fruit sweetener (or Swerve)
Syrup, berries and confectioner's sugar (optional)
INSTRUCTIONS:
Heat up your waffle maker per manufacturers instructions. Spray with cooking spray to keep your waffles from sticking.
Mix all ingredients in a bowl and pour or spoon batter into waffle maker. Cook the allotted time.
Serve with Sugar free syrup and berries. Top with sifted confectioner's sugar (optional).
NOTE: The little Dash waffle maker takes about two-three heaping tablespoons of batter to make a waffle. They will cook in about three minutes. Also, I use sugar free syrup but there is nothing wrong with some fabulous maple syrup on these waffles. Enjoy!