Setting up a self serve bar is one of the best things a host or hostess can do for themselves. Talk about reducing stress! Having all your ingredients laid out attractively with easy to reach and serve options takes all the pressure off of you. Welcome your guests and send them to the Mimosa Bar to make their own! A little planning and do ahead set up will set you free to handle food and your guests.
Mimosas have traditionally been champagne and orange juice. So simple and so easy. But everyone likes to get creative and mimosa bars offer options that are far more exciting and a lot more fun. The key to having a great self serve bar, is variety and a lot of it!  I like to put up a little sign with instructions for making the cocktail then lay out all the options.
Let's start with the juice options. OJ has to be on the bar but I say, make it fresh squeezed and you've already upped your game. I also like to add a mixed citrus juice (fresh squeezed) using the best and freshest citrus I can find. Navel oranges, blood oranges, pink grapefruit, maybe a limequat or two and definitely a Meyer lemon will make it into my mixed juice. In addition to those, I'll often put out several of the following juice options:
. pomegranate
. pineapple
. tart cherry
. pink grapefruit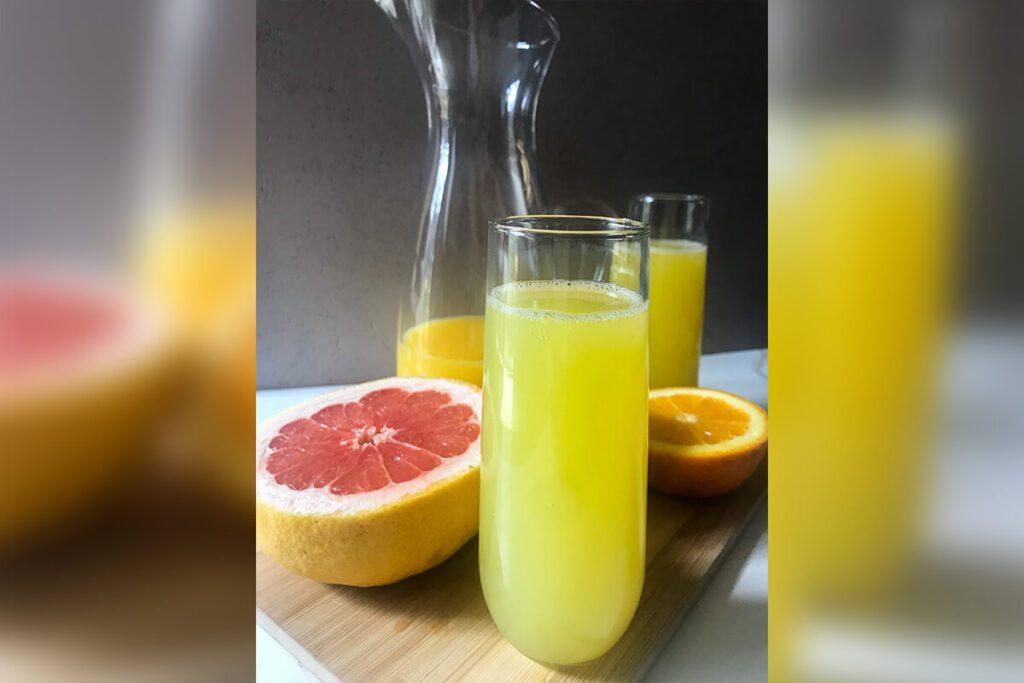 Now for the champagne portion of the Mimosa Bar, here is where you'll often find price dictating your choices. Price and the size of your gathering. Let's face it, some champagne choices can be very expensive. Others, can be very inexpensive but also taste awful. There is always a compromise and there are always other options. First, you can always substitute a great Italian Prosecco or a French Cremant. See my post PROSECCO VS. CREMANT to see the differences and to get some affordable recommendations. These sparkling wines tend to be less expensive than champagne and work beautifully in mimosas.
If you decide to stick with Champagne, I recommend that you talk to your local wine provider and ask for recommendations. If money is no object, the classics like these are always an option (and tasty too).  BUT they are also very pricey.
Dom Perignon Brut Champagne 2012 about $225 a bottle
Louis Roederer Cristal Brut 2013 about $300 a bottle
Perrier Jouet Belle Epoque Champagne 750ml about $170 a bottle
There are also some fabulous options in the $50 range and they might include:
Veuve Clicquot Ponsardin Brut Wine 750ml
Moet & Chandon Nectar Imperial Rose Wine 750ml
Moet & Chandon Imperial Brut Champagne 750ml
But don't let the price guide you. There are plenty of very affordable sparkling wines (under $20 a bottle). Remember, you are mixing champagne with juice so you don't have to spend a fortune to get a nice tasting cocktail.
Brands like Tatittinger, Korbel, Luc Belgier, Barefoot and Andre all put out very affordable options.  Several brands of Prosecco are affordable and easily found at the grocery store.  Taste testing can be fun so pick what you like and what is in your budget.  Don't forget to ask at your local wine shop…they'll help.
GARNISHES
Garnishes can make a drink special.  Typical garnishes in mimosas can include slices of citrus fruits, a cherry or a couple of berries.  I'll put out plates of fruit and let the guests decide for themselves.
BAR SUPPLIES AND GLASSES
Mimosas are served in champagne flutes. That is simple enough until you start looking at all the new options like stemless flute glasses and really skinny stemmed glasses. Decide of the glass you want to serve and have plenty of them, stacked and ready to go. Guests shouldn't have to reuse their glasses so plan on at least three per guest (to be on the safe side). I like to leave out a bin where guests can place their empty glasses before getting a fresh one.
There is always the option of disposable glasses (PLEASE, not the ones where the bottom falls off…LOL. That never works.) I've seen some nice looking options online and if you go that route, clean up is a breeze. You can also rent glasses if you are having a large group and don't want to use plastic. There are plenty of rental stores online.
You'll need all the basics:
. napkins
. buckets of ice to hold the juice and the champagne
. mini thongs to lift the fruit
. Back ups (juice and champagne, Prosecco or Cremant) in the fridge
. A bar, dedicated table or side table, covered with a tablecloth and set up for people to help themselves. Be sure that it is in a separate location from the food to keep traffic moving at your event.
. Signage for the juices so your guests know what type of juice is in each jug, bottle or pitcher.
As always, have soft drinks, water, soda, club soda and sparkling water available for guests that don't drink mimosas. I like keeping my brunches simple and a mimosa bar does just that so I don't usually offer other cocktail options. I always encourage my guests to bring their own if Mimosas are not to their liking…truth be told, I've yet to meet that person!  Set up your own Mimosa Bar and let your guests do all the work.  Have a great brunch!