Can the average person really afford to spend a weekend in Newport Beach? Yes You Can! There are plenty of fabulous beaches, things to do and great places to eat if you know where to look. I'm a local who enjoys to travel and let me tell you, there are some amazing finds right here in my own backyard and I'm about to tell you all about them.
Newport Beach is home to the rich and famous in Orange County California. A beach community whose average home is worth over $2 Million and where LA celebrities often come to their second home to relax. When you read about all the swanky restaurants, upscale shopping, yachts, black tie charity functions and exquisite resorts, it can be really intimidating to think about visiting the city for more than a couple of hours. I say, "no guts, no glory". Newport Beach is in my backyard and I enjoy all the amenities this great city offers and you can to. Here's a short weekend itinerary of places to stay and things to do that will give you a taste of Newport and won't break the bank. Don't worry, I threw in a couple of splurges so you don't miss out!
First, when should you visit? As with all destination locations, traveling off-season can lead to some pretty hefty discounts. What has always made me laugh is what Southern California considers "off season" (weather wise at least) is prime time in places like the Midwest. The weather is almost always beautiful here and our version of cold is when the thermometer dips below 60 degrees! I don't know about you, but that is about perfect for me. So, the winter months will definitely get you the best prices on hotels but you'll still be able to enjoy the beach, water activities, eat outside, shop outside, etc. You just might need a light jacket or sweatshirt at night (Yes, I'm rolling my eyes!) but that's about it for winter gear. Another great option is to travel midweek. Often, resorts and hotels offer better deals to fill those midweek vacancies. If you want to visit in high season (summer months), don't fret, there are still great affordable options.
So, where should you stay? There are plenty of affordable options. While Newport is known for it's high end resorts likeThe Pelican,Lido HouseandThe Balboa Bay Club, you can stay at some beautiful hotels (packed with all the same amenities you'd expect at a resort like a pool, spa and fine dining) for a fraction of the cost. However, the best and most exclusive spot is so affordable, sits right on the beach and is so close to several foodie landmarks in Newport that it is a full time job trying to get a reservation (But Oh so worth it!) It can be difficult scoring a reservation atCrystal Cove Historic Cottagesand it will take some determination to score one but when you see that you can rent a house, on the beach in the summer for as little as $175 a night, you'll be working to get those reservations just as hard as I do. They are in really high demand and you can only book them six months out and for no more than seven days at a time. You have to be up and at your computer by 8am ready to book exactly 6 months before you want to go! (I didn't say nabbing a little piece of heaven was going to be easy…just fabulous and affordable.) You can also scroll their online calendar for cancellations at other times. Check out the website link above for more details. These cottages are the most adorable beach homes right on the sand at my favorite beach (Crystal Cove), right next to one of my Restaurant recommendations (The Beachcomber) and down the road from the FamousShake Shack(Also on my short list of places to eat). If I can have a perfect weekend, it is checking into one of these cottages, spending a couple of days on the beach in front of "my home", walking up to The Shack Shake for lunch and then showering and relaxing before heading to dinner atThe Beachcomber(You usually have to wait so having a cocktail while I watch the sun go down is a must). The cottages are rugged and "beachy" (flip flops and bare feet required). The Shack serves just what you'd expect from a roadside stop, burger and fries, incredible shakes and a view that will knock your socks off! The Beachcomber is also right on the sand, impossible to book on line (waiting and having cocktails on the deck is encouraged) and serves great casual food in the perfect setting. That is where I would stop this post….lol. I don't need anything else. When I "score" a cottage, I already have my weekend mapped out and I couldn't be any happier. BUT you may not want to wrangle a reservation and you may have other ideas so here are two other great options (for different reasons) at more upscale properties that are still affordable at different times of the year.
CRYSTAL COVE COTTAGE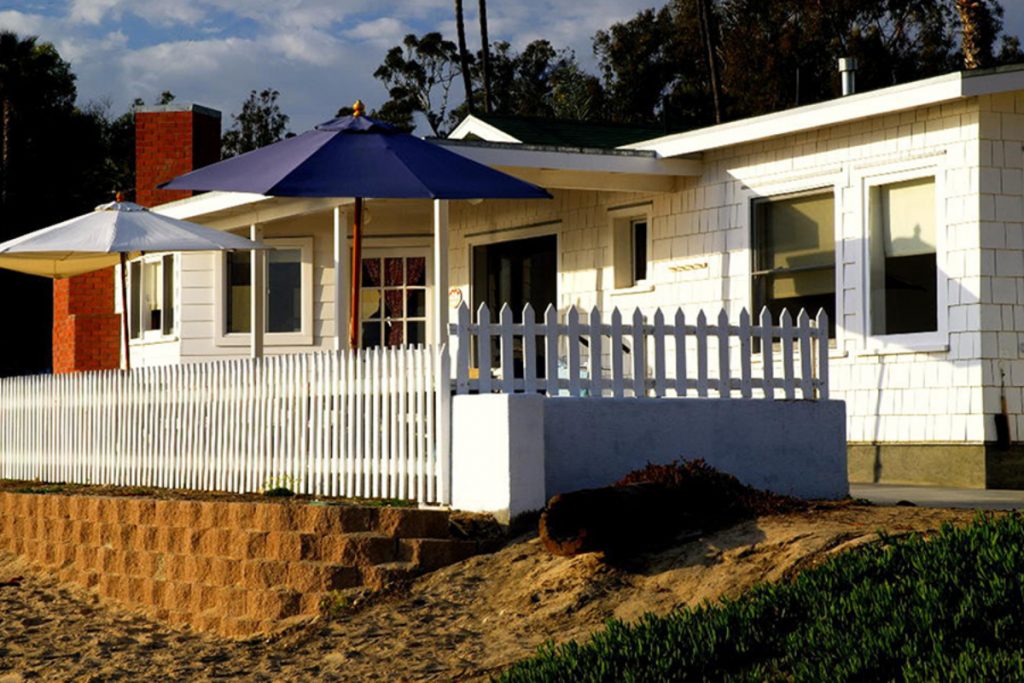 THE SHAKE SHACK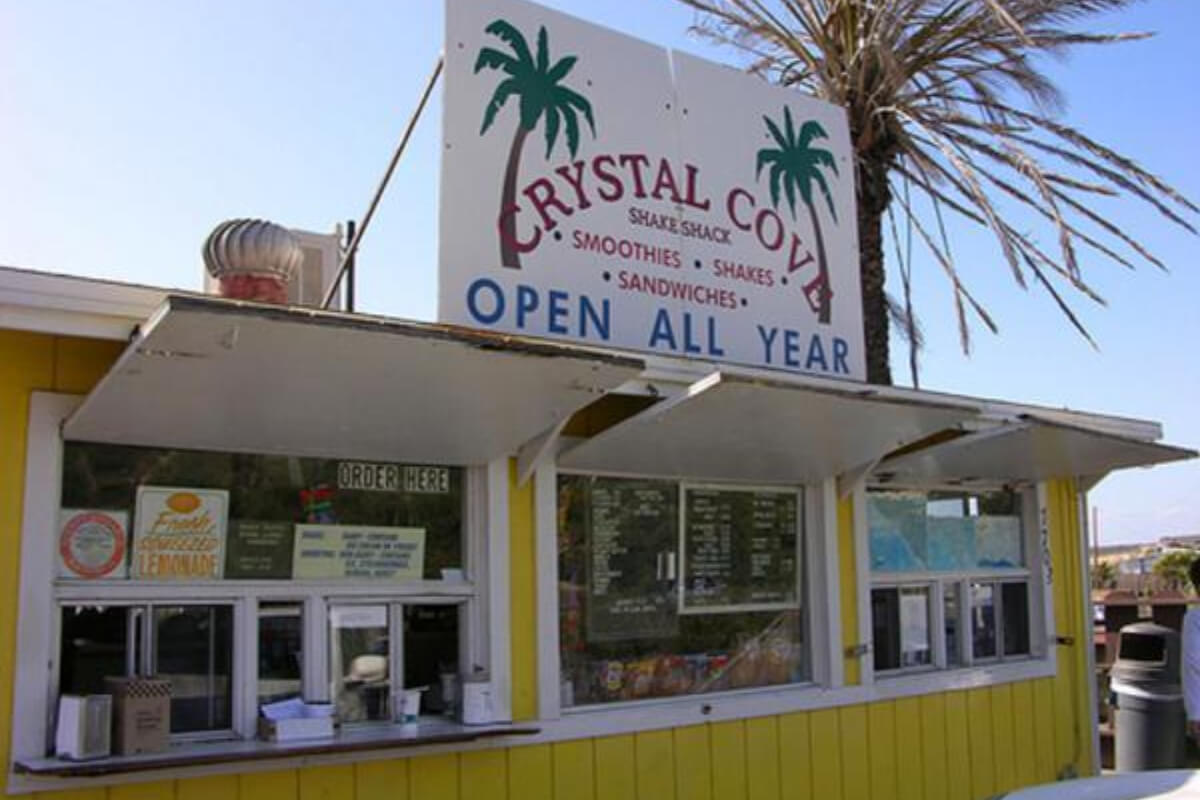 THE BEACHCOMBER RESTAURANT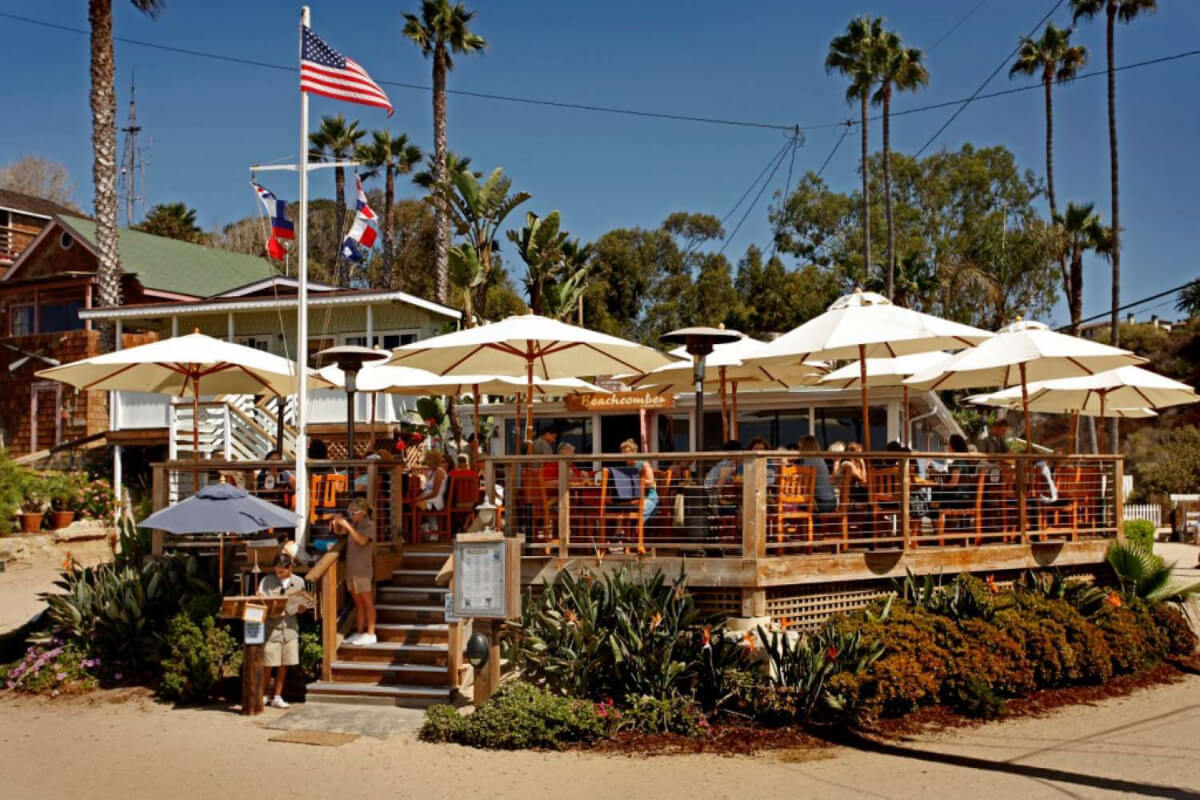 There are two Marriott properties right in Newport Beach that are high on my list. I've personally stayed at both many, many times when I visited the area for business or to see family. Each of these properties has all the "bells and whistles" but in different ways. First up, theMarriott Newport Coast(this is a timeshare property). Every unit is a two bedroom, two bath suite complete with a full kitchen and dining area. I worked for the Marriott for a short period of time in their timeshare unit, and this property is in the perfect location and is really well maintained. Besides the obvious draw of being able to bring the family, a girlfriend or another couple and share the expense of the lodging, you can also shop at local farmers markets and prepare breakfast or a light meal right in your suite. There are terraces with fabulous views from most suites that make eating in or having a drink on your terrace a joy. Another big draw for an affordable weekend at this resort is that there is self parking (no parking fees which can be as much as $35 a day at most hotels) and no daily resort fees (typically, another $35 a day). There is a big beautiful pool on the property and a small grab and go grocery mart. Personally, it is it's location 1/4 mile from Crystal Cove beach and less than that to the Pelican Resort that make it a win-win. The Pelican is a high end resort that wouldn't be on your list for an affordable weekend BUT maybe enjoying a cocktail at their bar would be in order! This Marriott property can get very expensive in the summer months, but in the winter months it is a steal.
My second Marriott recommendation is theMarriott Newport Beach Fashion Islandlocation. While located about 2 miles from the beach, this hotel has all the luxuries you are looking for in Newport: a full spa, multiple pools, workout facility, dining options and a full bar. This hotel's location across the street from Fashion Island (a must see shopping experience) makes it a one stop wonder. You can walk toFashion Islandfor shopping, people watching and more restaurant choices, enjoy the spa at the hotel or take their complimentary shuttle to the beach. This hotel tends to have a lot of specials and much better pricing than the timeshare property but both give you a total Newport experience in a slightly different way. Depending on what time of the year you travel, you can get rooms here for around $200 a night. Just be aware that there are those pesky parking and resort fees to deal with.
FASHION ISLAND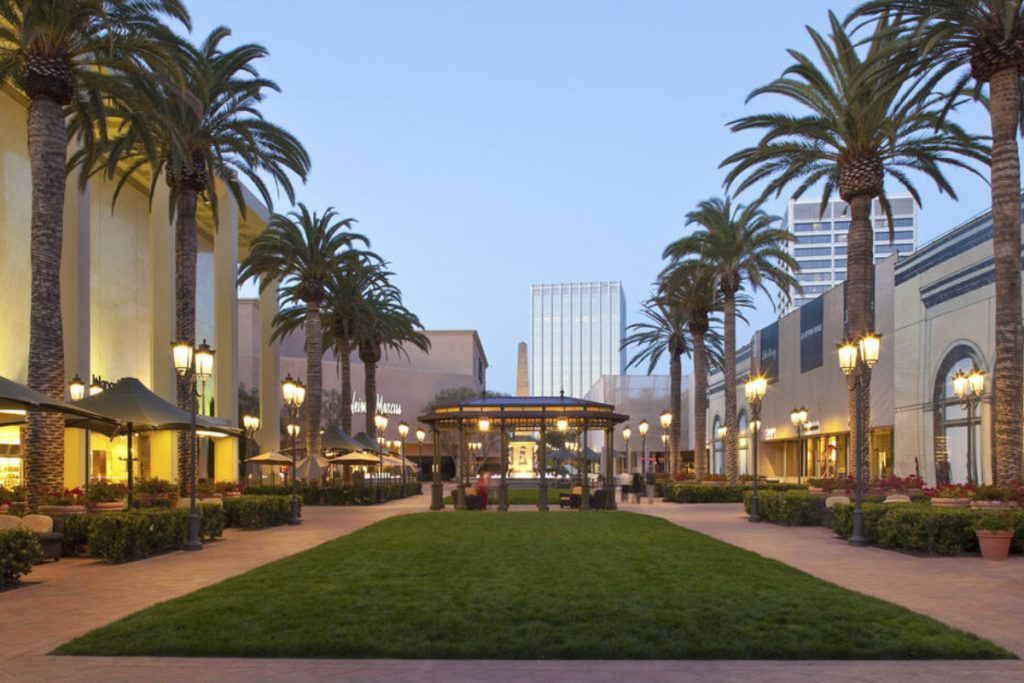 Now that you've made your reservation and know where you'll be staying, where should you eat? I gave you a couple of my favorites up above that are local treasures, really affordable and serve great food. Both serve breakfast and lunch. For another Sunday brunch option or light lunch in a beautiful setting, you should head toLido Villageand toMalibu Farms.
MALIBU FARMS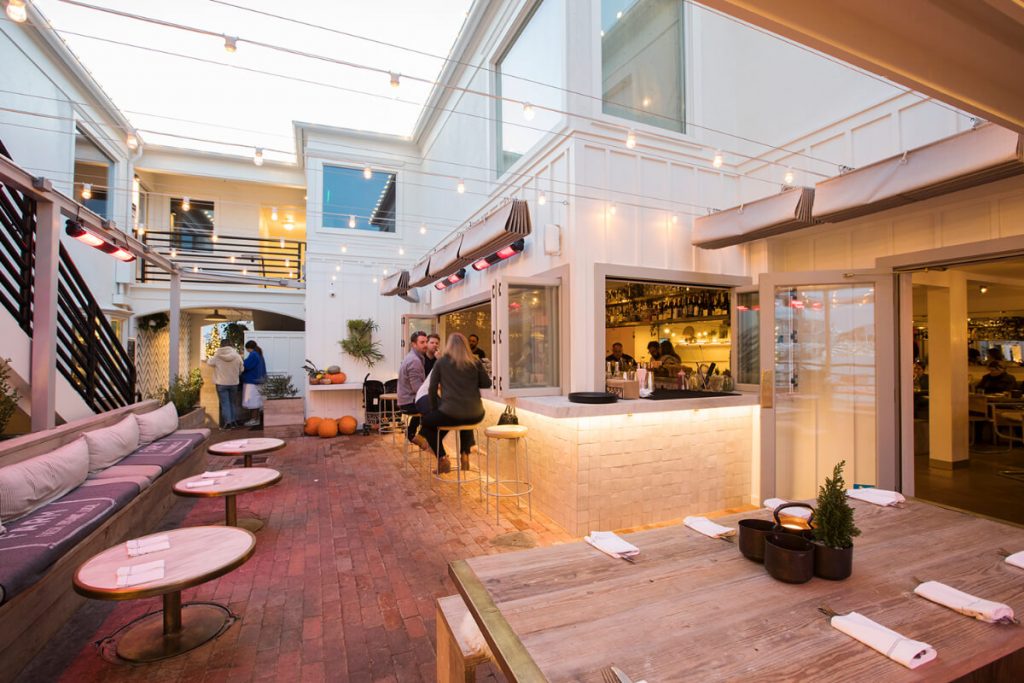 This restaurant sits right on the harbor where there are plenty of yachts to look at, cute little shops to check out and a menu that is just like California itself, light and healthy and really tasty. (Heading to Lido Village to just walk around, window shop, buy coffee or try a restaurant is one of my favorite things to do.) You'll notice that all of my restaurant recommendations have FREE water views and all of them, so far, have been very casual (flip flops encouraged) When in California, right? But there are so many incredible upscale restaurants that it would be hard to come to Newport Beach and not visit one or more of them. An easy way to to that is to either plan for a splurge meal (a couple of recommendations below) or to go to a couple of places for a cocktail and/or appetizer. This way, you are getting a lot more "sight seeing and tasting" done in a short weekend. These places are not inexpensive but definitely worth a splurge. My go to list for a great cocktail and often free music are:
.The Winery Restaurant (music on weekends and more water views)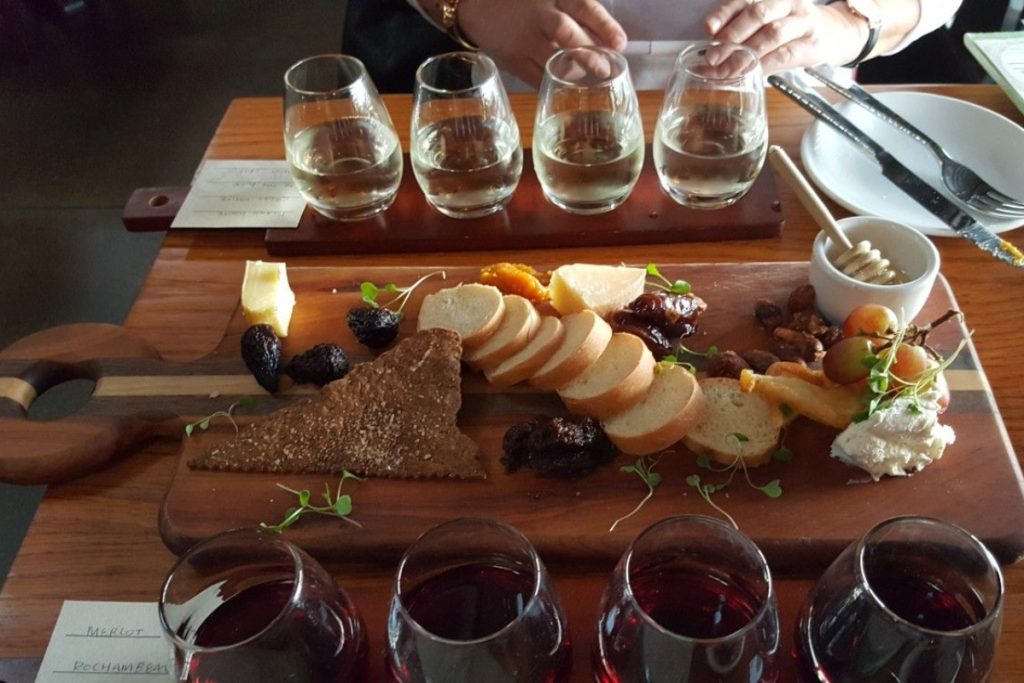 .Javiers in Newport (great upscale Mexican food & Margaritas)
.The Pelican Grill & Bar(Located at the Pelican Resort, their bar has a great wine list, spectacular views and wonderful service. Have a drink and walk around the property. There are lots of great photo opportunities for your 'gram!)
If you aren't a "hang out at the beach kind of person", what can you do that is fun and affordable? Everyone has a different version of fun, but I've rounded up several suggestions so that there is a little something for everyone. Remember, sitting on the beach with a good book is free. Window shopping and people watching in Newport is better than going to the theater and just getting out on the water and enjoying the sun is a vacation in itself. Get Newport on your list, follow some of my tips here, and see how the other half lives! Here are some fun things to do while you are visitng that are affordable and will give you that whole Southern California vibe. Whatever you do, don't miss the Chocolate Covered Frozen Bananas at the shop where they were created –Sugar & Spice. That will be the best $4.75 you spend all weekend. Have fun!