View From Duke's Beach Restaurant
We all know we need to be taking more vacations and we all come up with a million reasons to put it off. There is always more work to do, something to fix around the house, a budget to consider and then there is the shear energy it can take to plan, go and actually enjoy a getaway! There is so much research out there about how 70% of the joy of vacationing comes from the planning (so get to it) and how shorter, more frequent getaways may actually be better for you. So, let's get back to weekend getaways and road trips to places close to home. At least that's my plan for the coming year!
I live in Southern California and there are 100s of little towns, villages, seaside hamlets and inland orchards that I have on my list of "things to do". I've decided it is time to just start checking them off. I know I'm just not as productive or as happy as I can be if I don't rest and enjoy some downtime. With that in mind, I'm on a mission to start actually enjoying weekends. (Does anyone remember those days when you looked forward to the weekend and had plans?) To think there was a time in my life where I lived for my weekends…had plans that started at 5pm sharp on Friday night and went to the last possible moment on Sunday evening. Summer weekends in the Hamptons, fall weekends spent "upstate" visiting wineries, apple orchards and cute little towns and antique shops and winters trying new restaurants and going to dance clubs in NYC…it was just so much fun! Don't worry, I didn't forget Spring which was spent looking for my summer house in the Hamptons and rounding up "housemates" to spend the summer with. It's time to reinvent "the weekend" and get out there and do some mini-vacays. First up, Huntington Beach, CA.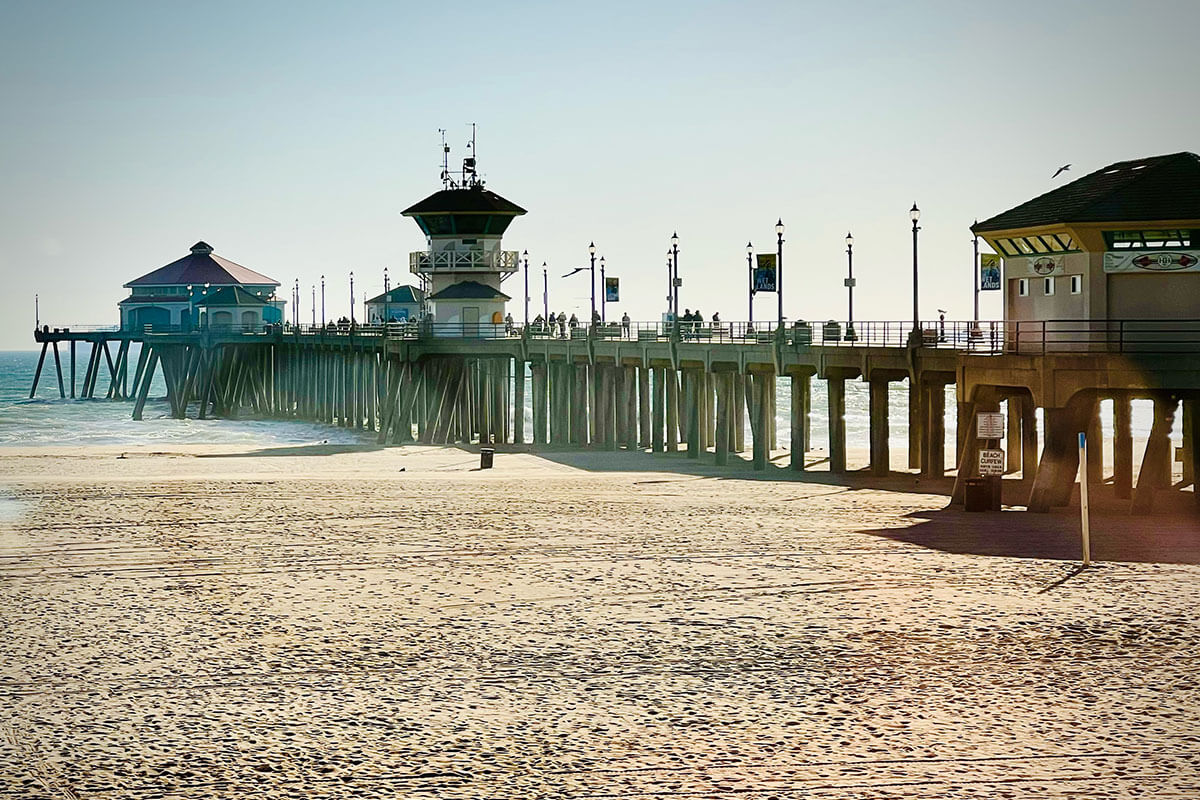 HUNTINGTON BEACH HISTORICAL PIER
Huntington Beach in Orange County is one of those "yeah, I've heard of it" cities in Southern California. It is world famous for it's surfing (hence the title: Surf City) and for years now has been well know for it's beach volleyball and the Olympic Athletes who have competed and won so many Gold Medals. This is a beach town. You come here to go to the beach, eat, drink and watch or participate in sporting events. Beach Volleyball, Surfing Competitions, Airshows, roller blading and biking on the boardwalk are all pass times for the locals and when you visit, you can and should take on that beach vibe in a hurry.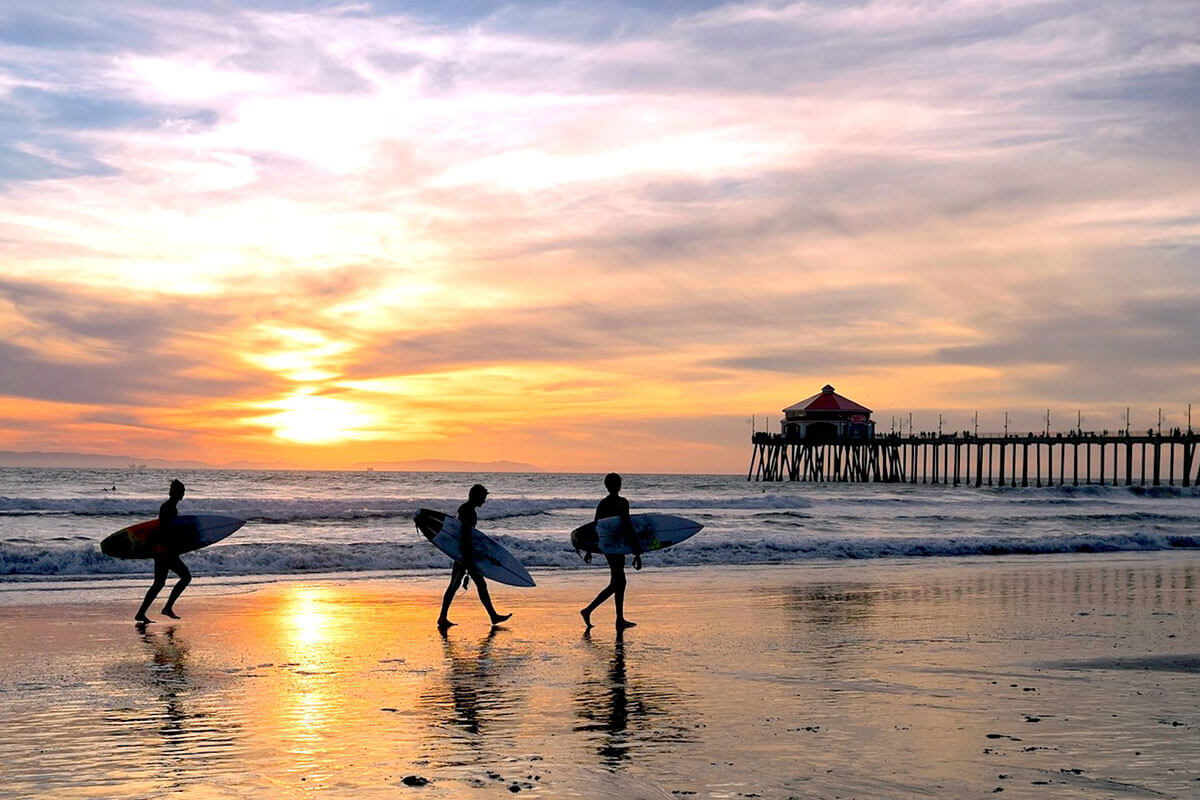 SURFING IN HUNTINGTON BEACH
So, let's spend a weekend in Huntington and get in on the action. First, where should you stay? This beach town has several options and they are all good. You have the tried and true Hilton Waterfront Hotel right across from the beach with a walkway over Pacific Coast Highway that gets you there in seconds. Too tired to walk all the way over there (LOL), plop down by their amazing pool, order some cocktails and make yourself at home. I've spent the most time at this hotel. Years ago, when traveling quite a bit for business, this hotel was a hot spot for conferences and meetings and I was often here for business. Dressed in a suit and gazing out at the ocean was no fun! I desperately wanted my flip flops and a quick escape to the beach. But the hotel had everything we needed for a meeting and it did have location, location, location.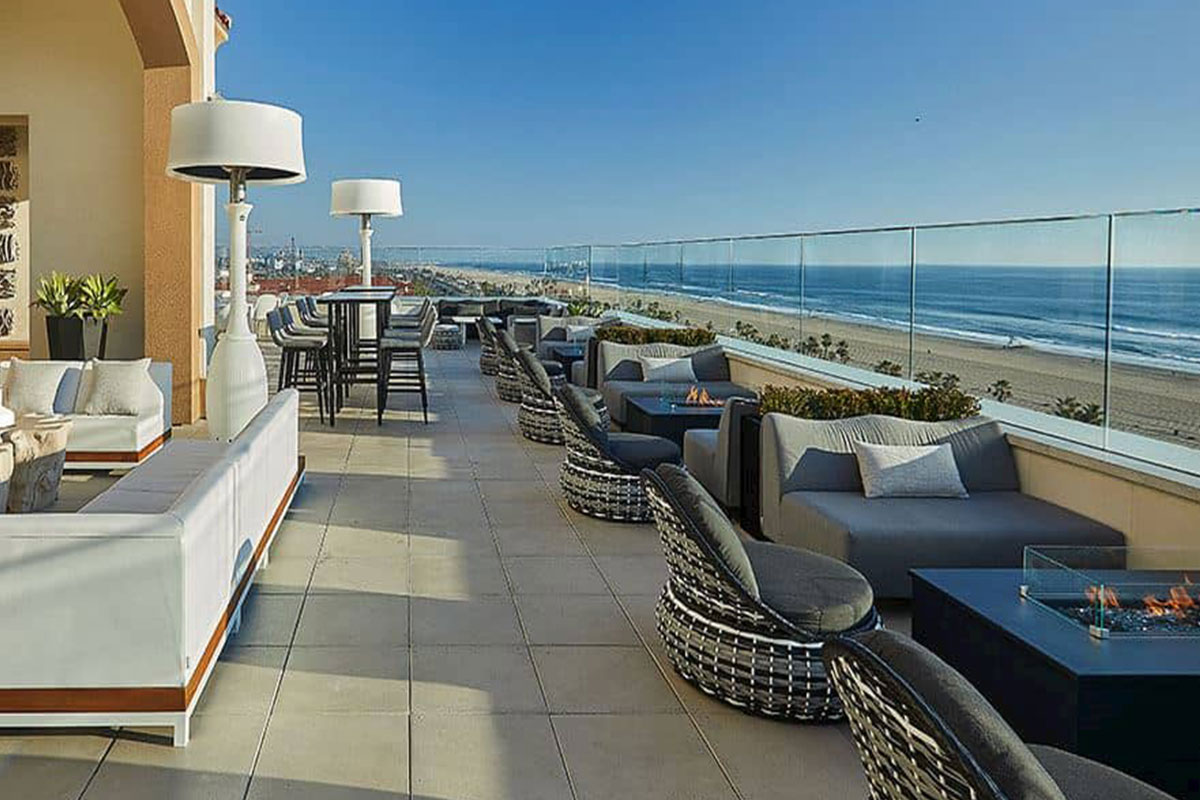 OFFSHORE 9 ROOFTOP LOUNGE
Years later, when visiting my family in Southern California, this would become a hot spot for these amazing outdoor Sunday Brunches and a world class Mother's Day brunch I'm not going to forget any time soon. A huge patio filled with tented stations served up every possible gourmet food item. There were ice sculptures, chocolate fountains and endless king crab legs and mimosas. Today, they have multiple dining options from a roof top bar with fabulous views, to an outdoor patio area for wine and appetizers. I love the Offshore 9 Rooftop Lounge for cocktails, firepits and ocean views. This is a great spot to watch a sunset and isn't that why we are in Huntington to begin with?
Another great plus for this hotel choice is that they have a full spa. If I only have two or three days to get away, having a hotel with multiple dining options, right across the street from the beach with a full pool and a complete spa means I don't have to do a lot of traveling if I don't want to. I can park and settle in for an amazing and relaxing weekend.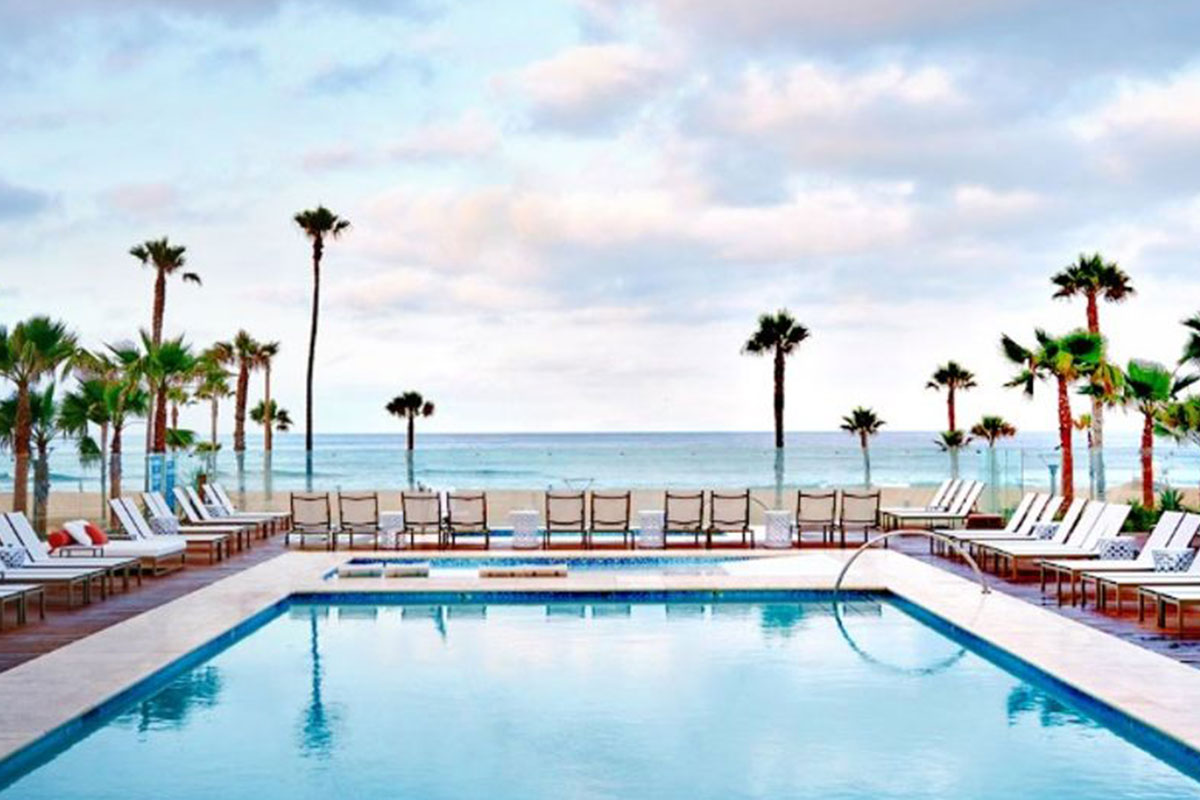 PASEA HOTEL & SPA POOL
Another hotel option is the newer and slightly more contemporary choice Pasea Hotel & Spa. This is part of the Meritage family of resorts and it too offers multiple dining and drinking options and a full spa. Tanner's is a fun bar with great views (Yes, this hotel is right across from the beach too.) They offer fun cocktails and casual food. The Jidori Chicken Nuggets were particularly good. This is a fun spot after a day at the beach and should be on your list whether you stay at this hotel or not.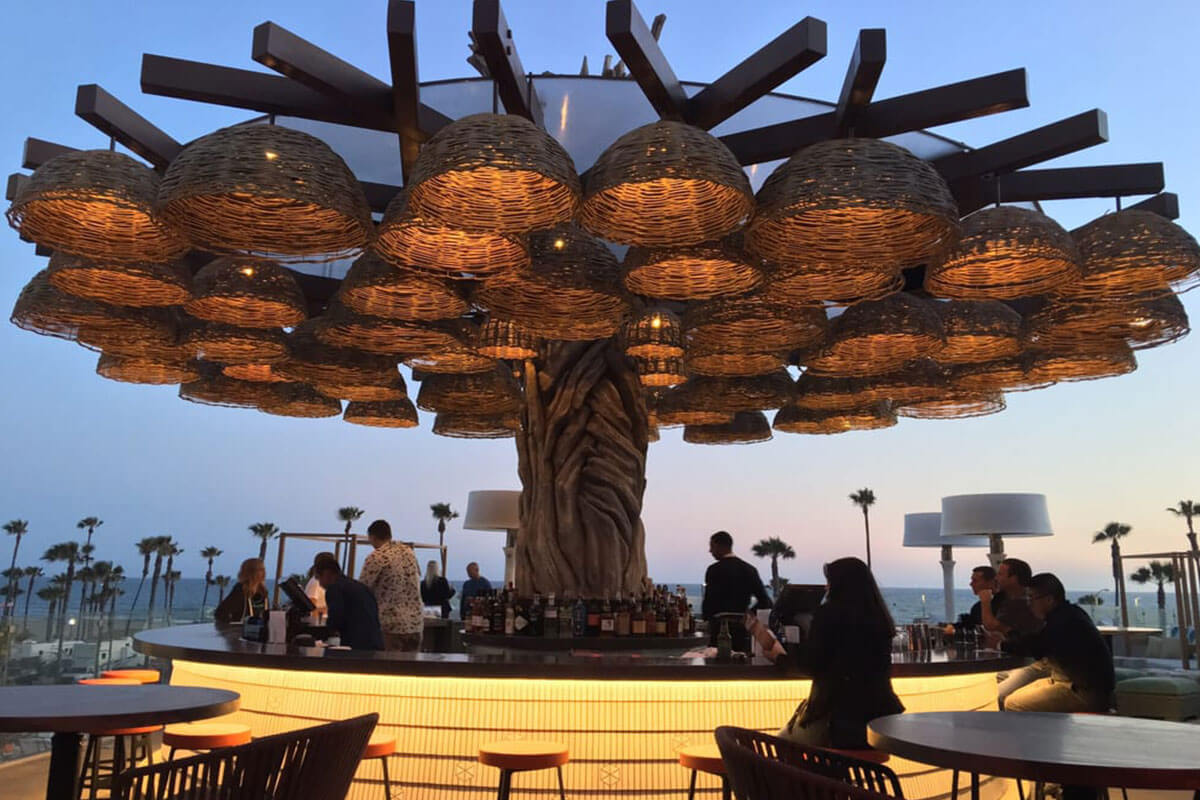 TANNER'S TREE TOP LOUNGE
Either hotel suggestion should make you very happy with long lists of pluses:
. Beach location
. Multiple dining options
. Cocktail lounges with ocean views
. Full Spa
. Walking distance to shopping, other restaurants and downtown area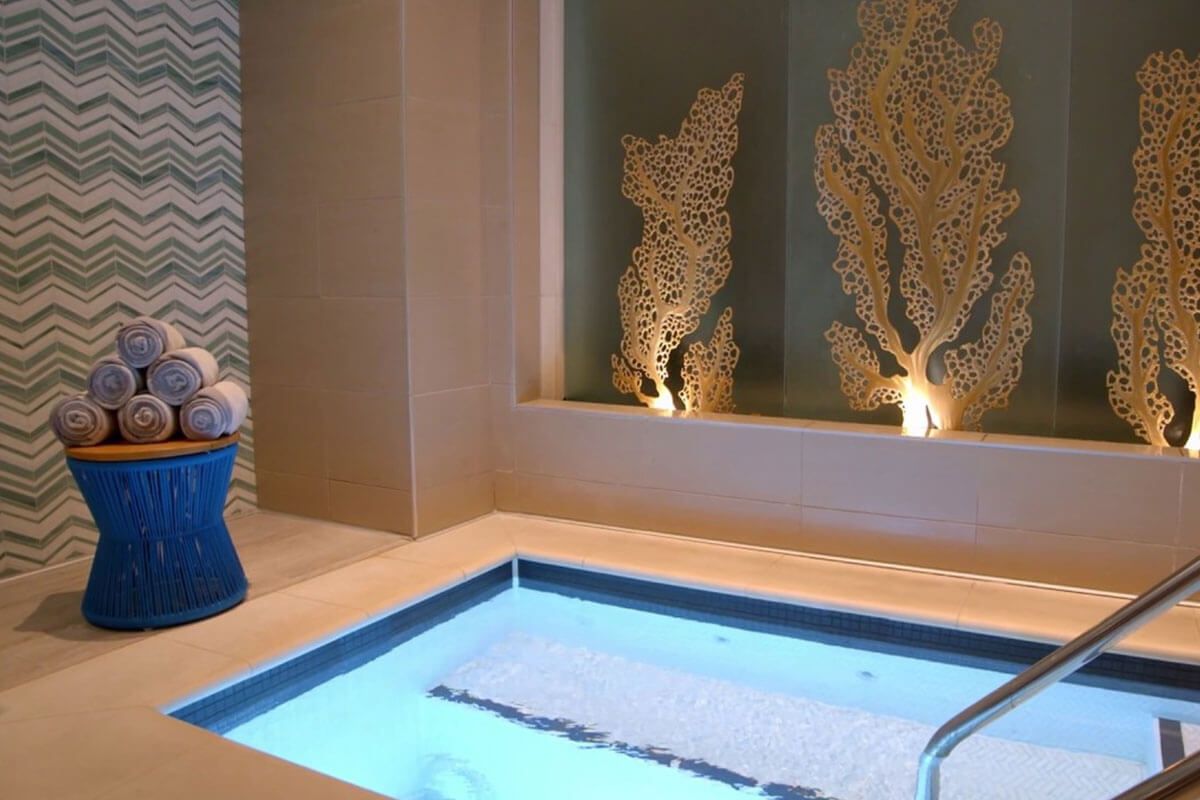 DRIFT SPA – HILTON HOTEL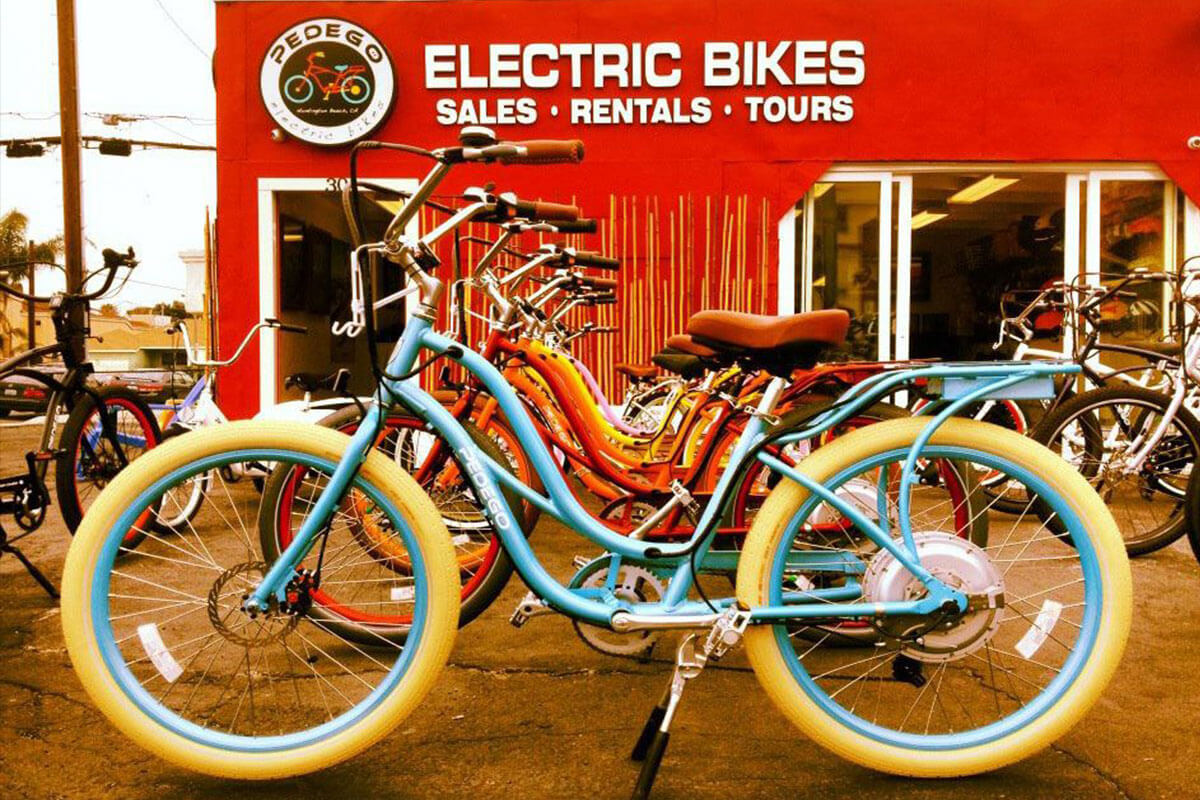 PEDEGO ELECTRIC BICYCLE RENTALS
Now that you've selected your hotel, what should you do? Really, do I have to spell it out for you? LOL. Grab a book, towel, some sunscreen and head to the beach (or pool). Relax and just breathe. Book some spa treatments at either the Aarna Spa at the Pasea Hotel or the Drift at the Hilton. Need some activity? Rent a bike or Huntington's favorite mode of transportation, a Pedego Electric Bike and cruise the boardwalk like a local. There is this great shop just a couple of blocks off of Main Street. Pedego Huntington Beach has a really helpful and super friendly team of guys that will help you select the perfect bike. I have purchased gift certificates for my family there and highly recommend them. Yes, you can rent regular bikes right down on the beach from Dwight's Beach Concession.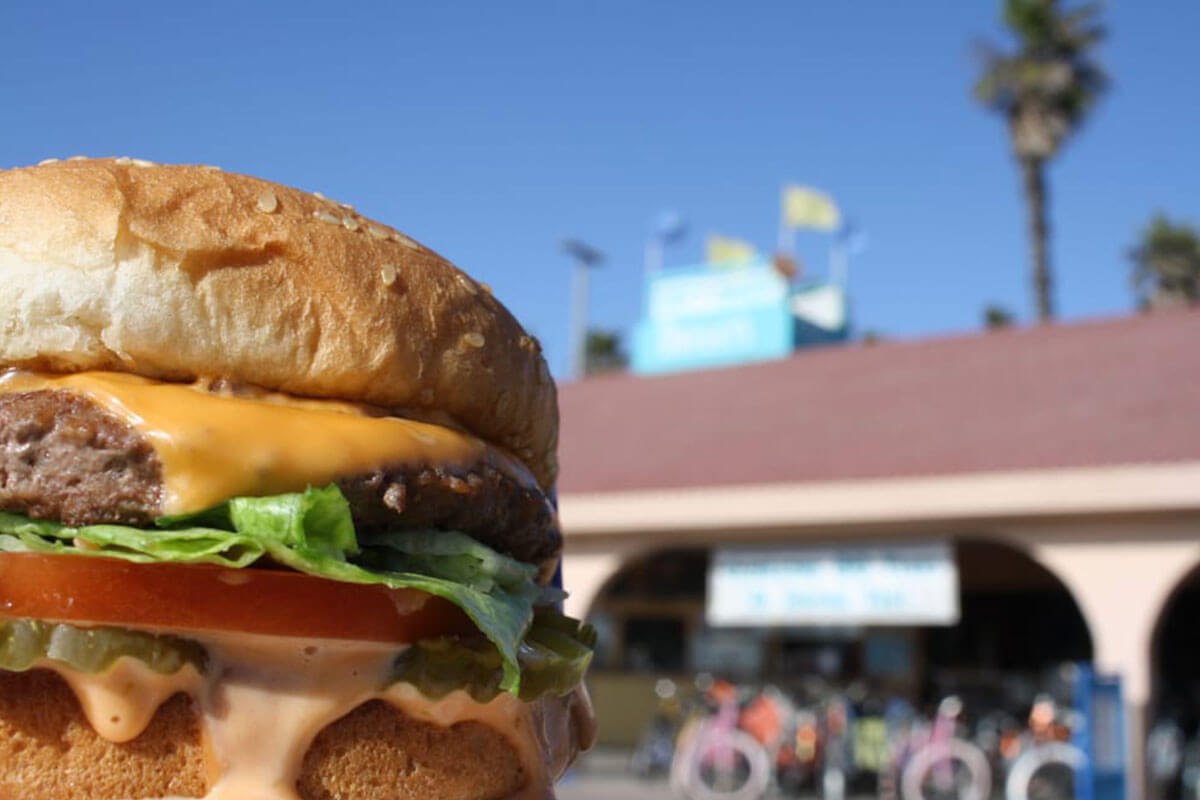 DWIGHT'S BEACH CONCESSION
What I love about Dwight's is that it is "old school" beach living. They rent beach chairs, umbrellas, surf boards (for those of you ready to give it a try) and even volleyballs so you can get in on that action. They have a food concession stand right on the beach too. They serve all your basic beach food: hot dogs, fish and chips, ice cream and frozen bananas. This place is the way going to the beach use to be. Just walk up in your bathsuit, place your order or rent a bike and enjoy your day. Did I mention, it is all right on the beach in front of the hotel of your choice?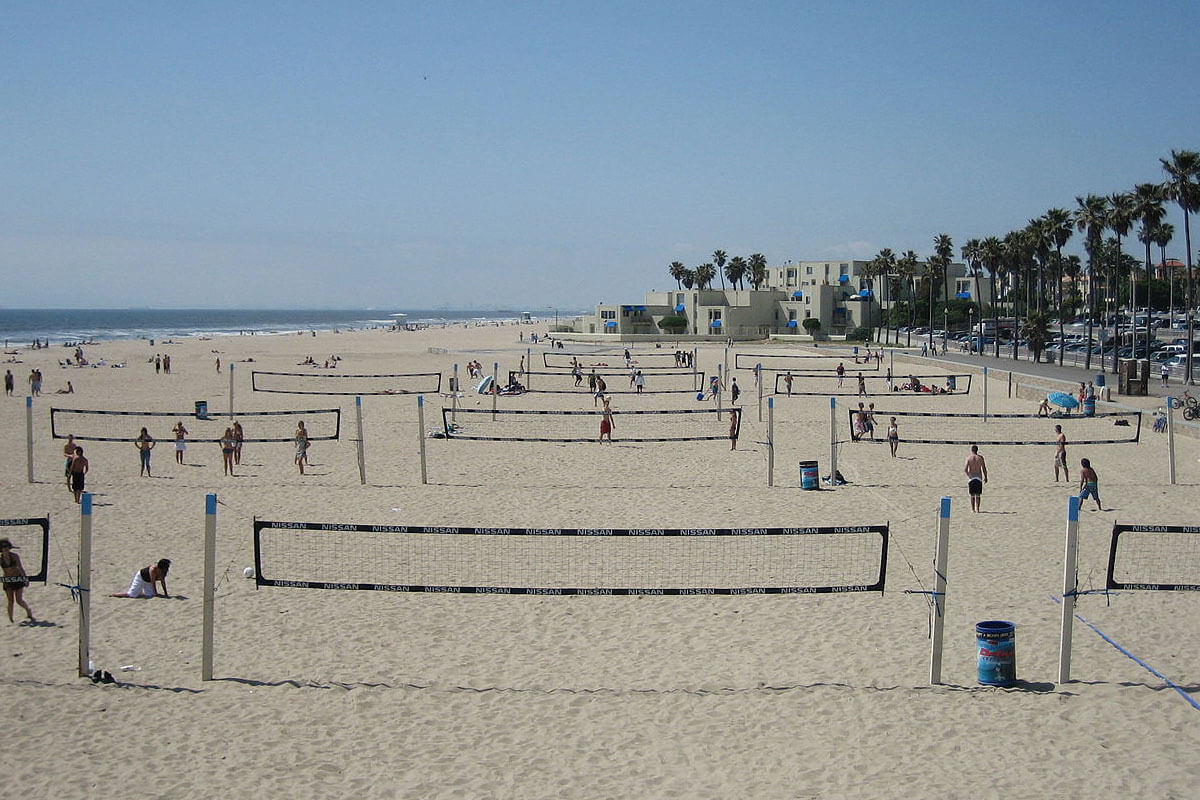 BEACH VOLLEY BALL NETS
Need to get in some shopping? Huntington is packed with options for trinkets, souvenirs and tourist merchandise like tee shirts and baseball caps. You can just wander around downtown and cruise the local shops and outdoor kiosks. If you are looking for slightly more upscale shopping, there is a relatively new shopping center called Pacific City that offers some other options. Huntington Beach is not the shopping capital of Southern California so I wouldn't plan on spending much time in stores. However, if you want to look around, they have some cute shops and fun "foodie" shops like the Frosted Cupcakery and Mahogany Smoked Meats. As with all things "Huntington", this mall is right across from the beach (is saying that getting old?) so stopping for something to eat or grabbing breakfast or coffee at Philz can be a fun start to the morning. Sitting out in the courtyard, gazing at the ocean can be a great start to anyone's day.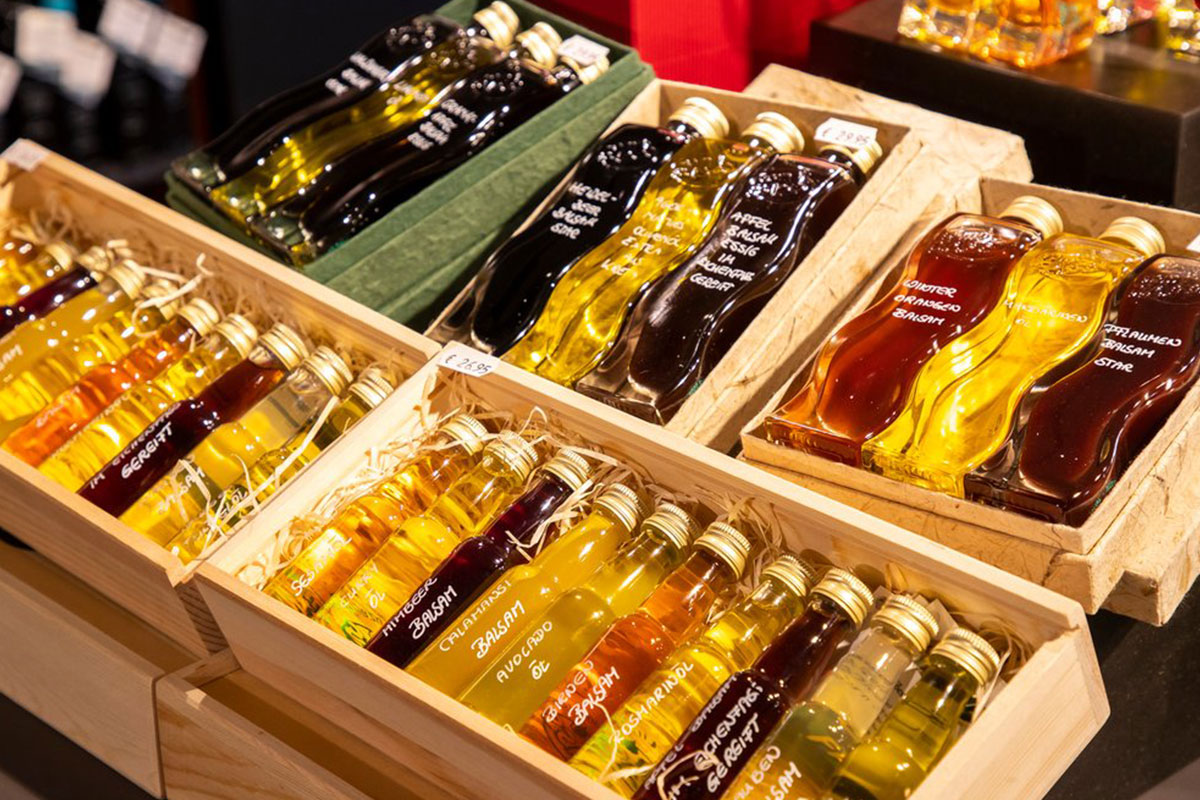 vomFASS OIL & VINEGAR TASTING KITS
One last note on Pacific City and a really fun thing to do while there: vomFass for oil, vinegar, spirits and wine tastings all under one roof. This unique artisanal tasting room started in Germany and offers guests an opportunity to try different products from around the world. This happens to be one of my favorite things to do so finding this little nugget of fun in a beach location just made my weekend escape that much better! You can visit the store for tastings and order products for delivery or pickup. I first heard of the shop at a holiday dinner at my nephew's house. He had purchased a Scotch Tasting kit that I thought was awesome. It came with about 6 different Scotches, little shot glasses and a description of each Scotch. It was such a fun idea and during Covid, it provided a fun way for the store to keep going and for family to have a unique holiday experience. Check them out.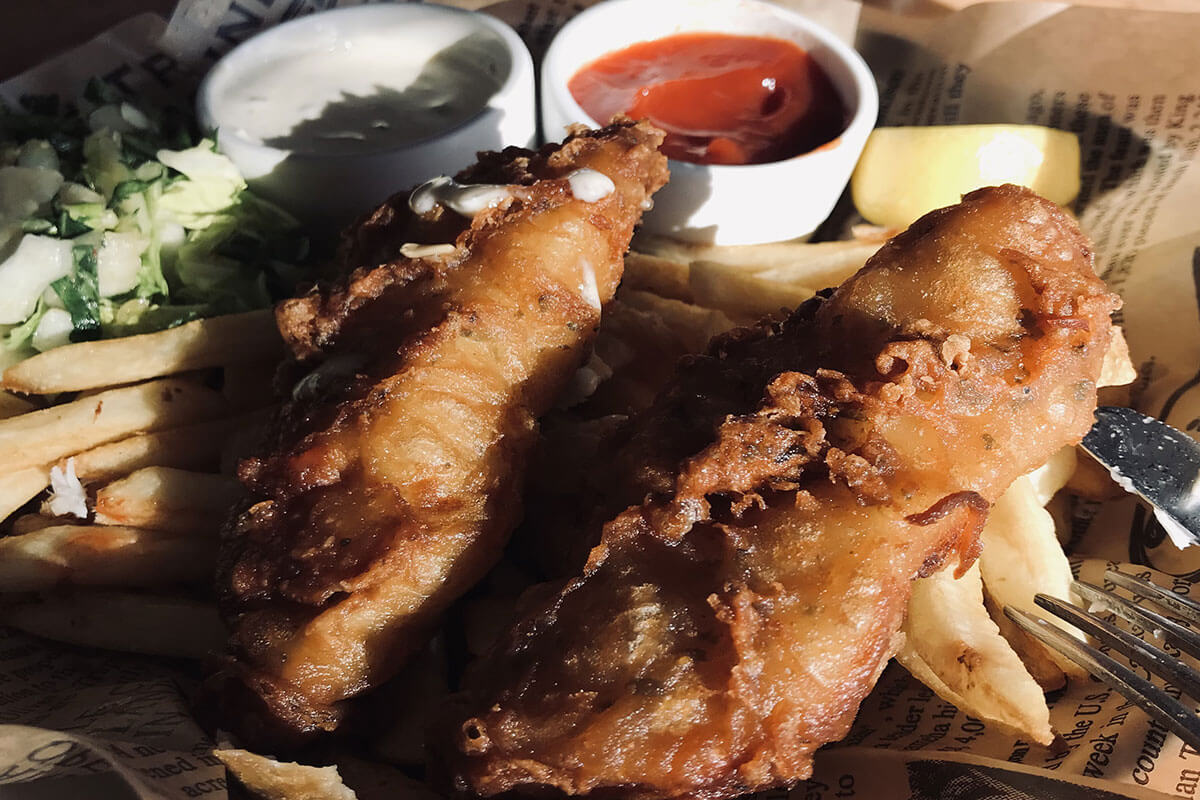 DUKE'S FISH & CHIPS
While you'll have lots of great dining options at the hotels, Pacific City and some fast beach food options at Dwights, there is one restaurant in Huntington that I go to every time I'm there: Dukes on the Beach. This place has always screamed VACATION to me. It has that Hawaiian, laid back, tropical vibe, sits right on the ocean side of Pacific Coast Highway (Loving called PCH to locals) and provides unobstructed views of the ocean and Huntington Pier. Every time I go there, the staff is wonderful and attentive. The food is pretty traditional "beach food" (shrimp, tacos, mahi mahi) and the drink of choice is a Mai Tai. (No grenadine or sugar syrup to be found any where…just fresh juices. How do I know? The waitress will tell you as soon as you sit down!!! LOL) I just love the place. They have six locations in Hawaii and California and was started by a Hawaiian Olympic Swimmer named Duke. You can walk here from the hotels but if you do drive, there is valet parking and the parking lot for the beach is adjacent to the restaurant. Dukes is located right by the pier and right across from bustling downtown Huntington so you get a lot of "people watching" done while visiting the restaurant. You can also walk off dessert by strolling to the end of the pier and back. That pier is the second longest in Southern California at 1,850 feet. Round trip, you'll get in a nice one mile stroll with views to die for.
While I choose to eat in the main dining room, they do have a more casual outlet on the boardwalk level that is just as good. Whatever you do, order the Hula Pie and multiple forks! It is their signature dish with a reason: ice cream, whipped cream, macadamia nuts, chocolate and carmel all combined for that "Oh, I really shouldn't" moment. Hey, don't worry about it…you have that stroll on the pier to take care of the damage!!!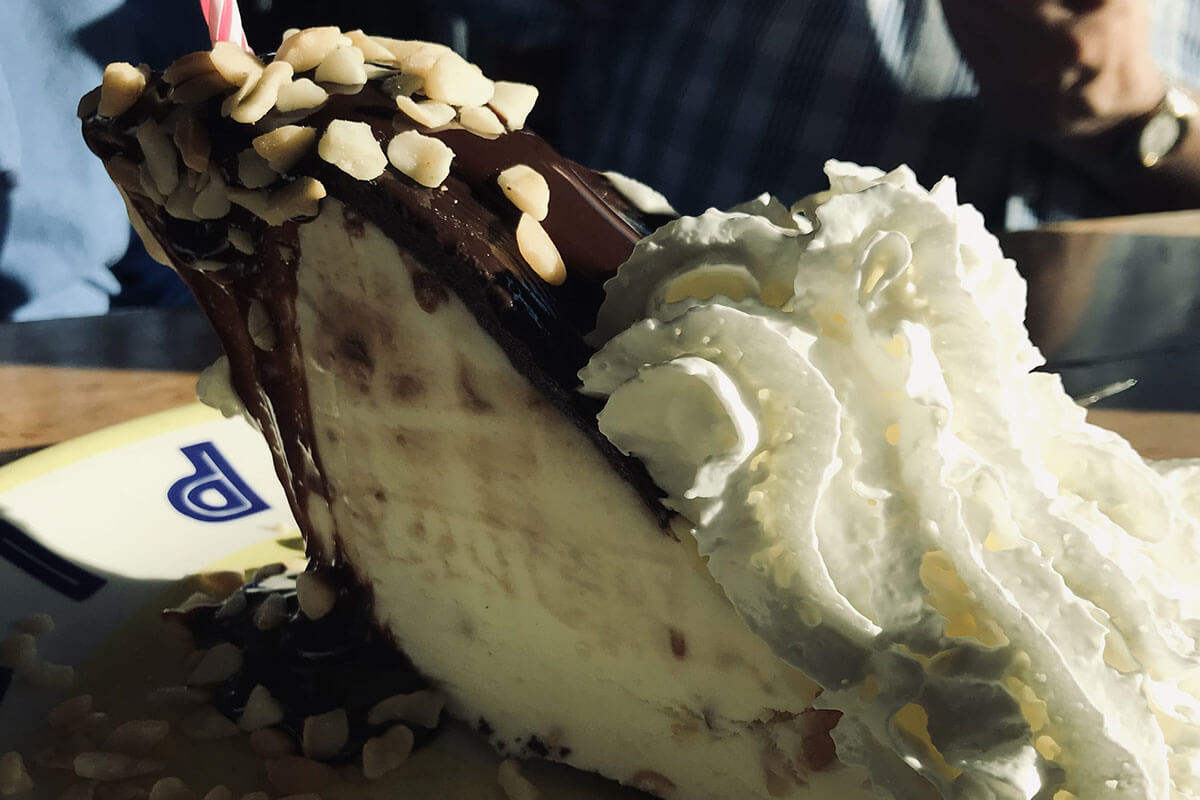 DUKE'S FAMOUS "HULA PIE"
And there you have it…an easy weekend getaway that allows you to park once and enjoy everything a weekend at the beach should be. If trying to decide when to go, there are several annual events that may help you decide. If volleyball, surfing or air shows are your "thing", check out the Huntington Beach Calendar of events. Get Surf City on your list for a weekend getaway and enjoy!